Disney increases bid for Murdoch's Fox assets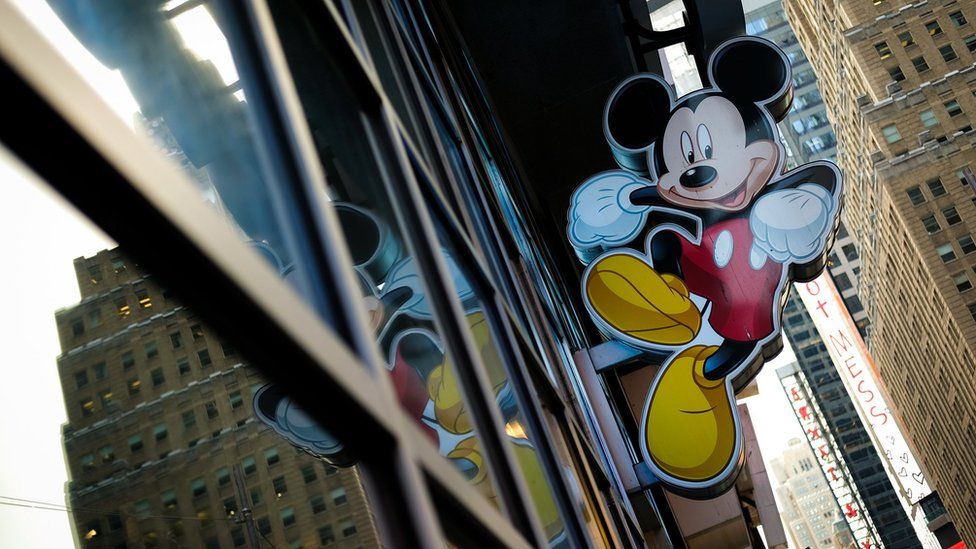 Disney has increased its offer for 21st Century Fox to $71.3bn in cash and shares, up from an earlier $52bn offer.
The move values Fox at $38 a share, some $10 higher than Disney's first offer in December.
Disney is locked in a battle with US media conglomerate Comcast, which has offered $65bn in cash for Fox.
"The acquisition of 21st Century Fox will bring significant financial value to the shareholders of both companies," said Disney boss Robert Iger.
Both Disney and Comcast are vying for Fox's entertainment assets, including movie studio, cable channels, National Geographic, a 30% stake in video website Hulu, and Indian network Star.
The pair are also separately battling over European news broadcaster Sky News.
Fox would retain some successful outlets, including Fox Sports, Fox News, Fox Television Stations and other assets, and mould them into a new company called "New Fox".
The fight for 21st Century Fox comes as traditional media groups scramble to consolidate in the face of mounting competition from online challengers like Netflix and Amazon.
It has driven broadcast giant CBS to try to merge with Viacom, which owns the MTV and Nickelodeon television stations.
It also spurred AT&T's takeover of Time Warner, whose assets include pay TV channel HBO.
The improved offer from Disney came as 21st Century Fox's board was set to decide whether to back Comcast's bid for assets that include Fox's film and television studios and international businesses.
Fox said it would now allow shareholders to evaluate Disney's amended offer.
Disney's latest offer is "superior" to the proposal made by Comcast, Fox added in a statement.
What might US regulators say?
Any takeover by either Disney or Comcast would be likely to face regulatory scrutiny.
The US Department of Justice may have recently lost in its battle to block a merger between Time Warner and telecoms giant AT&Tm, but that does not mean there may not be antitrust concerns in this case.
Is there anything else to the Sky News angle?
As mentioned, running alongside the main battle for Fox, there is jousting over Sky. 21st Century Fox wants to buy the remaining proportion of Sky that it does not already own.
Meanwhile, Comcast has bid $31bn for Sky.
And Disney has also agreed to a deal in principle to acquire the Sky News network from Fox, should the latter be successful in obtaining full ownership of Sky.
What does the UK government say about Sky?
Culture Secretary Matt Hancock recently cleared Fox's bid for full ownership of Sky - with the condition that the news channel is then sold to Walt Disney or another party.
On Tuesday, Mr Hancock announced that should Disney be successful in acquiring Sky News, then the news network would continue to operate and be guaranteed funding for at least 15 years.
That is up from the previous 10 year period.
In addition, he said Disney would have to get permission from the government if it wanted to sell the channel during that period.