CO2 shortage: Coca-Cola pauses production at some plants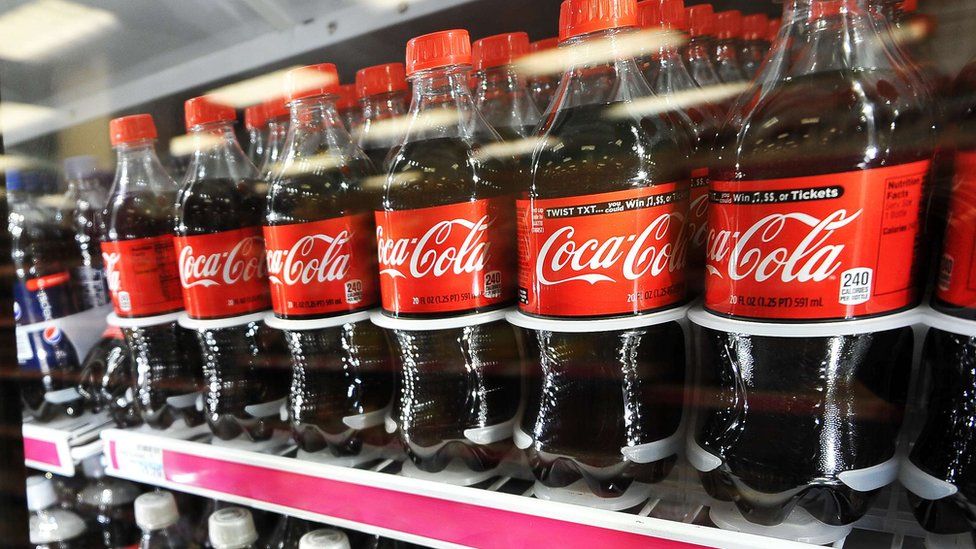 Coca-Cola says it has "temporarily paused" some production because of the shortage of CO2 gas.
However, the soft drinks manufacturer says that so far the shortage has not affected supplies.
Last week, the makers of Heineken's John Smith's Extra Smooth and Amstel said supplies had been hit.
There are reports that the shortage is affecting deliveries of frozen foods, which are kept cool by dry ice, which is made by compressing CO2.
The BBC understands Ocado is rationing the frozen food it delivers to avoid running out of dry ice.
Seasonal maintenance shutdowns have left the UK with only one big CO2 producer in action.
In a statement, Coca-Cola said: "We are currently responding to an industry-wide issue that is impacting the supply of CO2 in the UK.
"Our focus is on limiting the effect this may have on the availability of our products. During this time we temporarily paused some of our production lines for short periods, however there has been no disruption to supply to date and we are continuing to fulfil orders to our customers.
"We are working closely with our suppliers, partners and customers on a number of solutions as the situation develops.
Carbon dioxide is used in guns for killing farm animals and providing the fizz in carbonated drinks. CO2 is also used in certain medical procedures.
Last week, leaders of the UK's food and drinks industry warned the crisis was so serious it could harm production and asked the government to prepare to prioritise supplies.
The Food and Drink Federation said it would affect much of the "farm-to-fork supply chain".
The British Poultry Council (BPC) has warned that up to 60% of poultry processing plants could be knocked out "within days" as a result of the CO2 shortage.
Government officials have held talks with food industry representatives over how to manage the CO2 shortage.