Cash machines fee cut prompts fresh row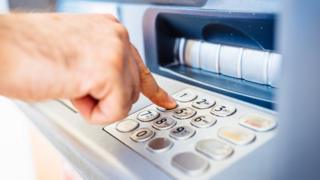 Debate over the future of ATMs in the UK has intensified ahead of a cut in the fee operators receive from banks.
From Sunday, the fee paid each time a cash machine is used will be cut, with further reductions due each year until 2021.
Link, which oversees cash machines, has argued that the move is vital for the sustainability of the network.
Consumer group Which? claims that 300 ATMs are closing a month, but that analysis is disputed by Link.
Convenience stores and the ATM industry have also expressed concerns about cash machines disappearing.
What is happening?
The fee paid to operators, known as the interchange rate, will be reduced from 25p to 20p per withdrawal. This change will be made over the course of four years, starting on Sunday.
However, the fee will be unchanged for free-to-use ATMs which are 1km or more from the next nearest cash machine.
Those in remote locations could receive an extra subsidy, particularly if they are threatened with closure.
The Association of Convenience Stores has calculated that the change could mean a decline in income of between £2,500 and £3,000 a year for some small stores that operate machines, at a time when they already face other financial pressures.
Why are the changes being made?
There are two pressing issues, according to Link - which oversees the UK's network of machines but does not run them itself.
The first is that consumers are moving away from cash payments to card, contactless, and smartphone-based payments.
Recent figures from the UK's banks showed that more transactions were made by debit cards than by cash last year.
The second is that cash machines are clustered in city and town centres.
Link argues that changing the fee structure would effectively make it just as lucrative to run a machine in a rural or less affluent area as in a town centre - so would even-out the spread of ATMs.
The sustainability of the network would be improved, it said, as there would no longer be lots of ATMs in city centres where consumers were more likely to pay with cards or smartphones rather than cash.
What does this mean for customers?
There is no obvious impact on the cost of using a cash machine, the vast majority of which do not charge individuals for use.
Over the longer-term, there is a debate over whether the changes will affect consumers' access to cash, particularly in more remote areas where cash use is higher.
Why is there a dispute?
Consumer group Which? and operators say there needs to be more scrutiny of the changes - particularly by the payments regulator.
They argue that the changes made by Link is leading to cash machines disappearing and operators leaving the UK, hitting everyone who relies on cash - including those in rural areas.
Ron Delnevo, of the ATM Industry Association, suggested that hundreds of the machines had been removed already and installations cancelled "at a much faster rate than complacent observers expected".
Which? said it had analysed Link's figures and suggested that almost 1,500 machines closed between November last year and April, which it said was a near six-fold increase from a steady rate of fewer than 50 closures a month since 2015.
The investigation suggested that machines in rural communities were at least as badly hit as urban areas - down 2.1% and 2% respectively - across the UK at a time when more bank branch closures were being announced.
However, Link disputed the analysis. It said: "Which? has suggested that ATMs have fallen by 1,500 in the period between November 2017 and March 2018, however, Link can confirm that during this period the number of free-to-use ATMs actually increased."
That said, its own more up-to-date published figures shows that there were 388 fewer free-to-use ATMs in the UK in June than there were in December.