No affordable homes? We'll build them ourselves
By Rebecca Wearn
Business reporter, BBC News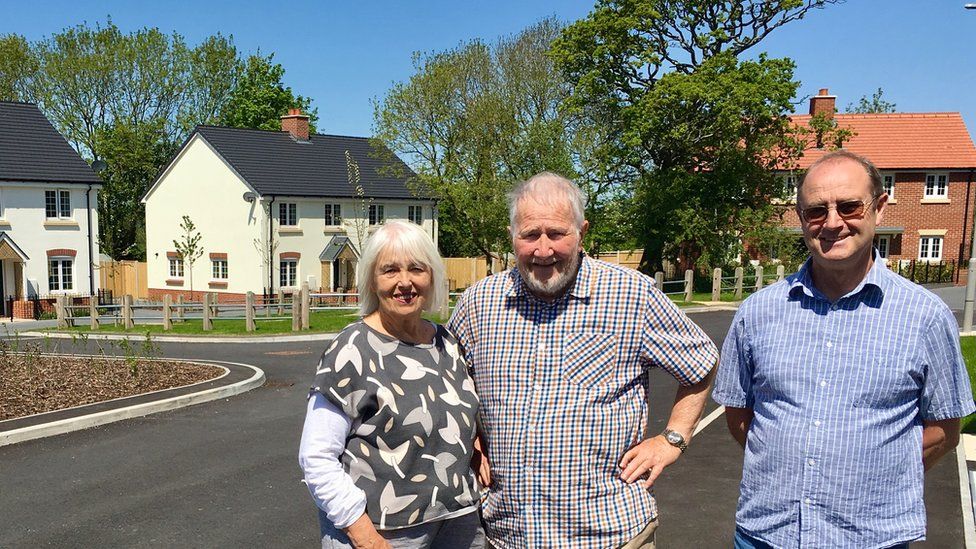 More funding is now being made available for community groups who want to develop and protect affordable housing in their local area.
The government's £60m Community Housing Fund was originally launched in 2016 and designed to help areas where high levels of second home ownership stop key workers and low-income families from buying or even renting a home - because they've been priced out of the market.
The extension commits an additional £163m in funds (up to March 2020) that will be distributed via the government body Homes England.
The early focus on rural areas of beauty meant that much of the money went to coastal areas of the South West or rural Northern England. But now the cash is available across England.
Second home ownership has increased by about third since 2000, says the Resolution Foundation think tank.
Meanwhile, only a fifth of homes built last year were deemed to be affordable on a private rental or a purchase basis - and the construction of social rented homes is at a 70-year low.
In Lyme Regis in Dorset, house prices in the town have risen an estimated 30% in the last decade, pricing many locals out of the market. Keith Jenkin, his wife Lorna and friends Robert McLaughlin and Brian Rattenburg decided they wanted to do something about it.
"The 20 to 40 year-olds are having to move out. The first-time buyers, the people who play for the local football team, who crew the lifeboat, these people are important," says Mr Jenkin.
"I've lived here for over thirty years and I felt it would be great to put something back."
The 15 homes they've built are home to council staff, working parents, part time employees of the tourism industry and the retired. And the spaces will always be rented at 20% less than the going market rate.
Applications to move in were oversubscribed by 300%, but Abby, Frankie, Jack & Holly, all under 30, are amongst the lucky ones all moved in, having previously been stuck in low quality expensive rentals or with their parents.
"It's nice to have the different age groups here, and the kids running around in the evenings," says Jack. "Knowing we've been born and bred here, we should be given a chance, I say."
The business model used by Keith and his friends is called a Community Land Trust.
They are not new, originally born out of social projects in India and the US in the 1960s and 1970s. In Britain, their ranks have swelled from just 16 in 2008 to over 240 today.
The methods of managing and developing homes varies, but the uniting principle is that the properties they are responsible for will always be available to local people in need at below the going market rate.
The Community Housing Fund could see these trusts expand further and the cash has been welcomed by the body behind this fast-growing movement.
"Traditional housing models just aren't cutting it, and new approaches to house-building must play a bigger role if we are to see off the housing crisis," says Catherine Harrington, director of the Community Land Trust Network.
"We are delighted that government has recognised the potential."
Another group hoping to make the most of the extra cash is Leeds Community Homes. Steve Hoey and his team maintain that affordable housing is as much of an issue in urban areas:
"Leeds city centre is a very expensive place to rent so we want to make those homes available to people who are on low incomes - working families, people who wouldn't normally be able to access decent housing."
They've already worked with Leeds City Council to fund the development of 16 houses within a larger development to the south of the city. Seven will be sold at 65% of market value, and can never be resold for profit, and the remaining nine will be rented out at 50% the market rate.
But this is just the start of Steve Hoey's ambitions: "We've got an ambition to build or enable 1,000 homes over 10 years so this fund will definitely help us to get nearer to that target.
"We could use it to build new homes, renovate empty homes, and just get projects through to their next stage."
Applications for funding are now open to community groups, charities, social enterprises and small co-operatives. Quite where the money will be allocated will be determined by their local authorities and Homes England, the government's new national housing agency.
Critics argue that the sums are still small compared to the size of Britain's housing crisis. Polly Neate, CEO of Shelter, said: "We welcome any new money to build more homes. Particularly when it fully involves the community and lets them have a meaningful say over how these homes are built.
"To combat this housing emergency properly what we really need as well is a bold new plan for social housing. Until we see this, families everywhere will continue to find themselves living on the edge of homelessness."
But Keith Jenkin and his friends are still keen. "The tenants, almost without exception, feel that they have really landed on their feet, and we feel proud.
"Plus, it's kept me involved and in touch. And it's kept the brain box working, you know."