Telegraph struggling as revenues plunge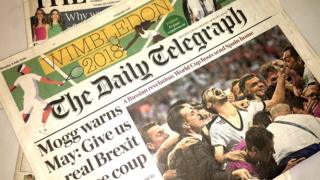 Profits at the Telegraph Media Group halved last year as revenues from print advertising and circulation fell by 9%.
The publisher of the Daily Telegraph and its Sunday stablemate said pre-tax profits fell from £27.1m in 2016 to £13.7m last year.
Revenues declined by £17.5m to £285.7m, which was blamed on "evolving consumer habits" and industry changes.
The titles are owned by the Barclay brothers, who also own the Ritz hotel.
There has long been speculation among analysts that the Barclay brothers are seeking to sell the titles, which they bought in 2004 for £665m from Canadian tycoon Conrad Black.
Sales of the print edition have plummeted in recent years, with the Daily Telegraph selling an average of 376,000 copies in May, according to ABC, and 303,000 for the Sunday title.
What does the future hold for the Daily Telegraph?
The numbers are considerably lower compared with the same month last year following a decision to stop distributing "bulk" copies to the likes of hotels and airlines.
The Times sells about 331,000 copies a day excluding 90,960 bulk copies.
Media commentator Roy Greenslade said the Telegraph's four-page statement read "more like a prospectus" than a set of results.
It points out that Nick Hugh, a former Yahoo vice-president, became Telegraph chief executive in June 2017 with a new strategy launched three months later.
The company aims to reach three million "registered customers" by the end of the year and has already passed two-and-a-half million.
"Our digital revenues will continue to get stronger and stronger and as we continue to invest in and focus on quality journalism, we anticipate this momentum continuing," Mr Hugh said.
Requiring registration allows publishers to obtain email addresses and other information about their readers as well as start charging after a certain number of free articles.
Mr Greenslade said the Telegraph titles could prove difficult to sell given its "very ageing readership".
There was also very little detail given about the financial situation, he said, with no information about the exceptional charges excluded from a £30.3m earnings figure that excludes interest, depreciation and other charges. That figure was down from £41.2m in 2016.
However, it was still "remarkable" that the Telegraph turns a profit, Mr Greenslade added.
Operating profit fell £11.5m to £21m, which the statement said reflected a £10m investment in "journalism, data and technology ... we anticipate revenue to stabilise in 2018/2019 with profits to follow".
Alice Pickthall, a media analyst at Enders Analysis, said the Telegraph's digital push would not make up for the decline in print revenues in the short term but was a necessary move given the sliding sales of the papers.
Other newspaper publishers have also been hit hard in recent years by the double whammy of declining sales and the flight of advertisers to the likes of Google and Facebook.
Last week the BBC reported that London's Evening Standard will post a loss of £10m for the year to September 2017 - down from a £2m profit for the previous 12-month period.
Unlike the Telegraph, it is wholly reliant on revenue from advertising and events as it is given away for free.
Even the Daily Mail, which sells about 1.2 million copies a day, suffered a 9% slide in advertising revenue for the six months to March, and a 6% fall in circulation revenue.