The female pilot teaching African women to fly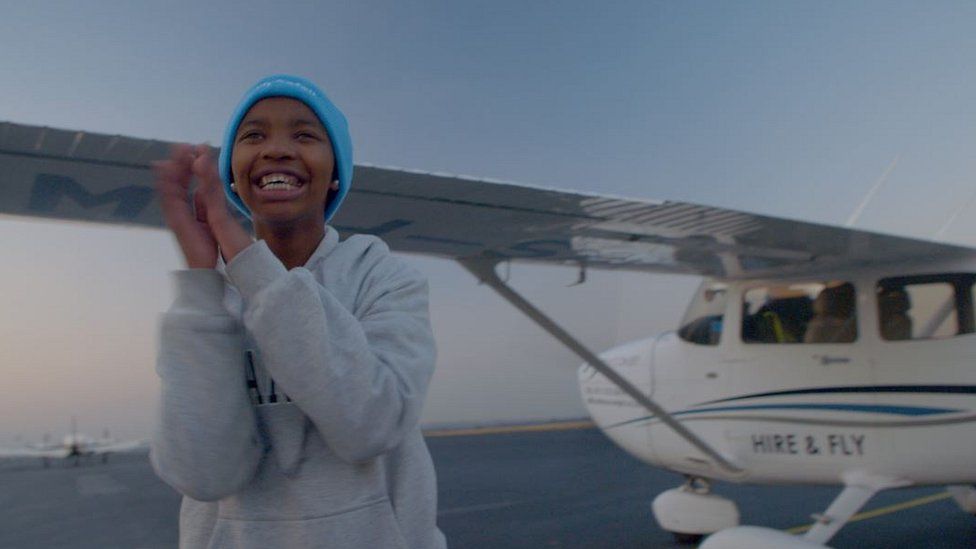 Fourteen-year-old Paballo (Pabi) Leqhotsa jumps out of the pilot seat of a four-seater Cessna monoplane giddy with delight.
"It was amazing. I felt like I was in control, do you understand?" she says, spinning round in excitement. Taking control of an aircraft was something the teenager from Soweto, a township just outside Johannesburg, had dreamed of since she was little.
She stands on the runway at Grand Central Airport and whoops with pure joy; the words of delight streaming out of her.
"Driving Zulu Sierra Papa Whiskey Whiskey (her aircraft's call-sign) was so amazing. It was so amazing!"
The woman behind this euphoria is Refilwe Ledwaba, South Africa's first black woman to have flown for the South African Police Service.
Besides being the country's first black female helicopter pilot, Refilwe is also the founder of the Girl Fly Programme in Africa Foundation (GFPA) a non-profit organisation empowering young women to take up science, technology, engineering and mathematics (STEM) subjects.
Every year she organises a flying camp for girls where they learn about robotics, coding and aviation. And then each of them gets a free flying lesson at some point during the year.
"I want the girls to be successful," she says, dressed in her pilot's uniform, watching the teenagers take it in turns to fly. "Not necessarily to choose to become pilots but to become confident young women who can contribute to society, our economy and give back to our communities."
Her passion for flying is contagious, and it's that which is driving her to work on her dream of developing South Africa's next generation of female aviation experts and Africa's future leaders in science.
The BBC's Innovators series reveals innovative solutions to major challenges across South Asia and Africa
As she stands on the runway, other pilots stop and call out to her, waving, teasing and asking her advice on a variety of technical flying matters.
She smiles as she deals with their queries while simultaneously arranging a week-long camp for around 100 14-18 year olds from South Africa and Botswana in the Magaliesberg mountain range.
Yet Refilwe, who grew up in a single-parent household with six siblings in Limpopo, had never even been anywhere near a plane until she was 17.
She planned to be a doctor until she took a flight to Johannesburg from Cape Town while she was at university and discovered the plane was being flown by a woman pilot.
Her dreams stayed on hold until she started working as cabin crew for South African Airways. She began taking private flying lessons but soon realised she needed an alternative way of finding the cash.
"I wrote about 200 letters to every company I could think of in South Africa," she says. Three eventually replied, including the South African Police Service, who offered to pay for her training as a helicopter pilot and to support her plan to get a commercial pilot's licence.
Refilwe has since left the police and now spends her time as an instructor, while focussing on getting girls interested in the aviation industry.
The teenagers at Refilwe's fourth and biggest flying camp to date are all academic achievers, getting high marks in their maths and science classes - but this is where the similarities end.
Some come from townships, some from top private schools, and there are those who have never had either a white or black friend before, simply because of the segregated backgrounds they come from.
The camp days are filled with flight simulators, making electronic gadgets from scratch and smart questions being thrown at the inspirational guest speakers. The camp nights are filled with songs, dance, bonfires and lifelong friendship-building.
Prof Debra Meyer, executive dean of science at Johannesburg University says it's key to invest in STEM projects across Africa, particularly when it comes to girls.
"It's important to encourage young women to not only enrol in science and technology but to also stay the course. We are just not seeing enough young women and girls succeed in the sciences and that needs to change.
"Black women especially are marginalised, and with so few of us in the field we need to encourage more to apply and then provide the necessary support to ensure their success," she says.
This is echoed by Sakhile Nyoni-Reiling, who was Air Botswana's first female pilot, eventually becoming its general manager, and who has held high-ranking positions in South Africa's civil aviation sector.
She says aviation traditionally used to be an industry where girls would never be heard, and that it is imperative the girls at the camp are given ways of navigating the tough field ahead of them.
Data compiled by the International Society of Women Airline Pilots suggests that women make up just 5% of the world's pilots.
And although Refilwe is an inspiration for these girls, she credits her own mother as a driving force in her success.
But what keeps her going?
"Women account for more than 50% of the world's population. If you are not going to prepare women for those jobs in the future, then we are lost," she says.
"It's important that we're not only focusing on aviation and space but STEM as a whole because this will set these girls to be very competitive for future jobs. Perhaps they will go back or help their communities to break their cycle of poverty.
"In the long run that inequality gap then might perhaps start narrowing down a little bit. That's why we do what we do."
This BBC series was produced with funding from Bill & Melinda Gates Foundation