Pound slides after Boris Johnson quits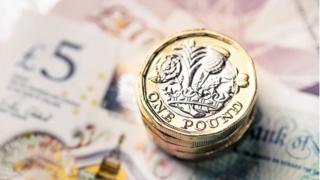 The pound has fallen against the dollar and the euro after Boris Johnson resigned as Foreign Secretary.
Sterling fell more than a cent against the dollar to trade at $1.3218. Against the euro, it fell back to €1.1253.
The pound had been in positive territory after investors bet Brexit Secretary David Davis's departure meant a "softer" Brexit was more likely.
But analysts warned sterling was likely to fall further if Mr Johnson launched a leadership challenge to Theresa May.
"The pound can handle ministerial resignations if that's the extent of it... if it means Johnson leaving and not launching a leadership challenge," ING strategist Viraj Patel said.
But he warned that a leadership bid by Mr Johnson would open up further uncertainty.
Simon Derrick, chief currency strategist at Bank of New York Mellon, agreed that traders were now likely to be "more cautious".
"They are now going to start focusing far more on the potential political risks, they will focus on the possibility of a leader challenge, on broader risks in parliament," he said.
Pound against the dollar
Shares were less affected by the abrupt resignations of Mr Davis and Mr Johnson, with the FTSE 100 continuing to gain ground. The blue-chip index - which is dominated by firms which make most of their sales overseas - closed almost 1% higher at 7,687.99.
Shares often rise when sterling falls, as the weaker currency lifts the value of companies' overseas earnings when they are brought back to the UK and converted back into pounds.
---
Analysis by BBC business editor Simon Jack
The resignation of two senior cabinet ministers has business leaders worried that a government which managed to settle over the weekend on a soft form of Brexit could topple.
But markets aren't panicking.
The pound had a bit of a wobble after Boris Johnson's announcement - and the stock market gained as the multinationals that make up the FTSE 100 see their foreign earnings increase in pound terms when sterling falls.
But both moves were not sharp enough to suggest investors are expecting the government to fall.
---
The resignations of the two heavyweight Cabinet ministers comes just days after Mrs May secured senior ministers' agreement at Chequers for a Brexit plan, which she said was the basis of a "responsible and credible" offer to restart renegotiations with the EU.
But Mr Davis had warned that the plan meant that the UK was giving "too much away, too easily".