Sorrell: Triumphant return or expensive tantrum?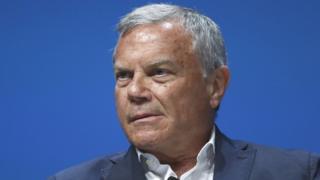 Sir Martin Sorrell's first acquisition since he stepped down as boss of WPP under a cloud of scandal has come at a heavy price to him personally and to his new investors, according to industry sources.
Personally, acquiring high-tech ad production company Mediamonks through his new investment vehicle, S4, may cost him £19m in long-term bonus payments from his previous employer that were due to pay out over the next five years.
The payments were conditional on his honouring confidentiality agreements signed when he left the company that prohibited him from pursuing acquisition targets that WPP had been considering while he was in charge.
WPP's lawyers wrote to Sir Martin last week, outlining the company's intent to stop the payments.
Sir Martin told the BBC that his lawyers advised him before the deal that he would not be in breach and he intends to fight any attempt to withhold payments to which he says he remains entitled.
Industry experts also think he has massively overpaid for Mediamonks by paying a rumoured €300m - €50m more than the other bidders, Accenture Interactive and his old firm WPP, were prepared to pay.
'Peanut allergies'
Mediamonks is expected to generate about €20m in profit this year, which means Sir Martin has paid a multiple of 15 times earnings, in a market which industry sources say usually prices companies at under 10 times earnings.
The price tag looks even higher for Sir Martin and his new investors when you consider that both Accenture and WPP could have expected to create synergies and cross-selling opportunities within their large organisations - something not available to Sir Martin's group, which so far consists of a solitary company.
Sir Martin rejects these criticisms and says the structure of the deal gave extra incentives to the founders of Mediamonks to stay with the company which will enhance the value of what S4 is acquiring.
Sir Martin has previously promised that his new venture would not compete with - or seek to do any harm to - the advertising giant he spent more than 30 years building.
WPP insiders are deeply sceptical of that commitment, with one saying his desire to get an acquisition in the bag has "something of the vendetta about it".
He has previously said his new venture is a "peanut" that can't harm a giant like WPP, but recently said: "It does occur to me that some people have peanut allergies."
That comment, industry sources say, illustrates that he bears a grudge over the manner of his departure from WPP - a grudge that is clouding his business judgment.
"Nonsense," says Sir Martin. "WPP is just getting worried because the peanut just became a coconut."