Jaguar Land Rover workers miss out on World Cup time off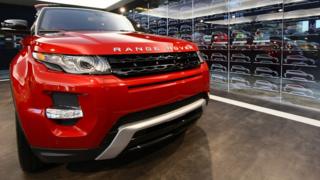 Requests by Jaguar Land Rover workers in Merseyside to be given time off to watch England in the World Cup semi-final have been turned down.
Management at the Halewood plant said they could not cut shifts short because of production commitments.
A request for the match to be shown on TVs inside the plant was also denied due to health and safety concerns, a JLR spokesman said.
However, staff at a JLR plant in the West Midlands have been given time off.
One worker told the Liverpool Echo colleagues were "furious".
"We thought we would be allowed to watch it. It's disgusting. We're not allowed to support our own country," he told the paper.
A Jaguar Land Rover spokesman said management at the Halewood plant had taken the decision because cutting the shifts short by three hours would mean the plant would be unable to catch up with orders.
The disparity in policies between Halewood and the West Midlands was down to different shift patterns and different demand for models, he added.
The models produced at Halewood include JLR's top two best sellers, the Range Rover Evoque and the Land Rover Discovery Sport. The cars are shipped to 130 countries.
Rolls Royce
However, not all high-end car factories are continuing until full time on Wednesday night.
Rolls Royce workers at Goodwood in West Sussex are to be given the evening off to watch the match, the firm said.
"The Rolls-Royce family is incredibly diverse and cosmopolitan: we have almost 50 nationalities represented at the home of Rolls-Royce," said Torsten Müller-Ötvös, chief executive officer for Rolls‑Royce Motor Cars.
"But as a proudly British company, based in West Sussex, we felt it was right, and important, to honour England's success.
"Closing our doors early means a large group of people, who would otherwise have been working, have the chance to watch the game and share in the sense of national pride that comes with this great occasion."