How Build-A-Bear fell into its own trap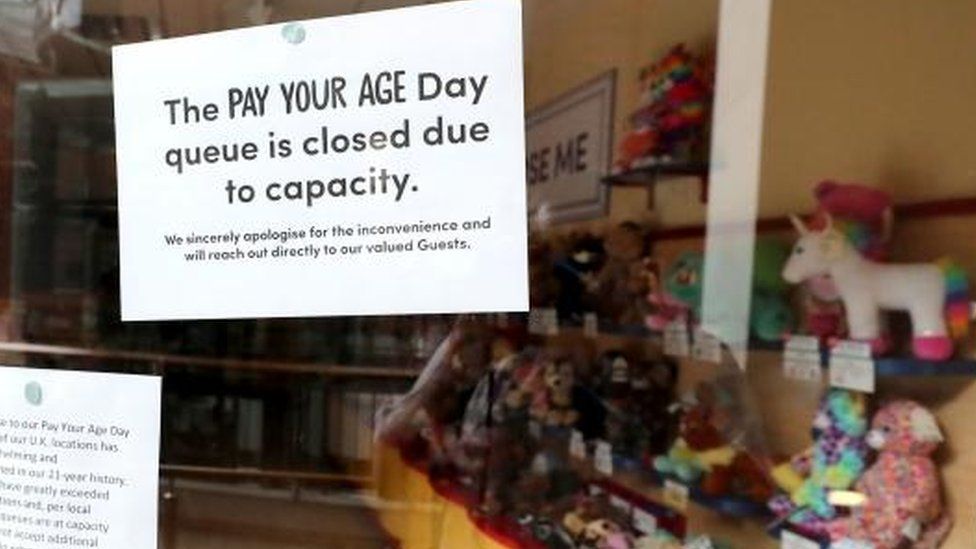 Build-A-Bear's pay your age promotion - which led to long queues and chaotic scenes on Thursday - was a "good idea, poorly executed", experts have said.
The chain was offering UK and US customers a chance to buy any bear, which can cost up to £52, for the price of their child's age.
It led to "mile-long" queues, police being called out, and the company calling time on the deal.
Customer service experts said the firm should have learned from the past.
"This is not a good position to be in for Build-A-Bear. Black Friday has shown that customer service is not about bargain basement prices," said Jo Causon, chief executive of the Institute of Customer Service.
"People want value, but they will also pay for better service. This was a good idea, poorly executed."
Other episodes from retailing history that could have alerted Build-A-Bear to the impending chaos include fights over a chocolate spread, battles over free flights obtained through buying a vacuum cleaner, and fast-food fisticuffs to get a free doll.
The long queues seen at shopping centres across the UK on Thursday led to many stores being closed and shoppers turned away. In some cases, parents and children had waited for hours.
Chloe Lythgoe, who took her two children to the Warrington store, said: "Children were becoming distressed from the waiting and the heat inside the shopping centre."
In a statement from the US, Build-A-Bear Workshop said: "Based on the information available to us before the day began, we could not have predicted this reaction to our Pay Your Age Day event."
Gemma Butler, marketing director at the Chartered Institute of Marketing, said: "This was an ill thought-out and unprofessional promotional execution, one that not only risks their own brand reputation, but has the potential to bring the wider marketing sector into disrepute."
For Ms Causon, of the Institute of Customer Service, that reputation could be revived by the retailer's response to shoppers' disappointment.
She said that Build-A-Bear staff seemed to have dealt with the situation with empathy in the stores. The idea of handing out vouchers to those who did not make it through the doors, to use before the end of August, might also prove to be a successful move for the business, she said.
On its website Build-A-Bear describes itself as a "one-of-a-kind global brand that kids love and parents trust".
The US brand was established in 1997 and has made more than 160 million teddy bears to date.
Build-A-Bear stores offer children a chance to design, stuff and dress their own teddy bear. Customers can even add sounds and scents to their toy.
Basic bears cost between £12 and £27 with limited edition toys costing more than £50. Clothing for teddies also ranges from £4.50 to £15.
Some would argue that any publicity is good publicity.
However, there are a number of other examples of price promotions that went wrong.
Earlier this year, the French supermarket chain Intermarché offered a 70% discount on Nutella, bringing the price down from €4.50 (£3.90) to €1.40.
But police were called when people began fighting and pushing one another.
"They are like animals. A woman had her hair pulled, an elderly lady took a box on her head, another had a bloody hand," one customer told French media.
In 2014, police were called to supermarkets across the UK to deal with crowd surges, as people hunted for Black Friday offers.
This BBC footage has been replayed endlessly, including - no doubt - on the televisions that shoppers were trying to grab.
A Tesco spokesman said that, after an investigation, the store manager "will take steps to prevent a similar situation happening again".
The regularly recited example of a promotional nightmare was when Hoover offered two free return flights to anyone who spent £100 on any of its products.
Such was the response, initially for flights in Europe, then to the US, that the company was inundated.
Originally intended to shift a backlog of vacuum cleaners and washing machines gathering dust in Hoover's warehouse, it ended up costing the company £48m and dragging their name through the dirt.
Cases ended up in court, and one disgruntled applicant even hijacked a Hoover van.
McDonald's has had its fair share of promotional problems. In 2000, crowds in Singapore jostled to get their hands on Hello Kitty promotional dolls at the fast-food restaurant, leaving seven people injured after a plate-glass door shattered.
In 1984, in the US, McDonald's gave away a Big Mac, fries and Coke every time a US athlete won a medal. Given that the USSR boycotted the games, leading to the US winning far more medals than expected, it proved costly for the company.
Walkers Crisps ran a promotion that suggested people predict the weather to win cash.
Unfortunately for the company, being Britain, everybody predicted rain, and the promotion ran during an exceptionally rainy period.