Heatwave threatens to cause shortage of peas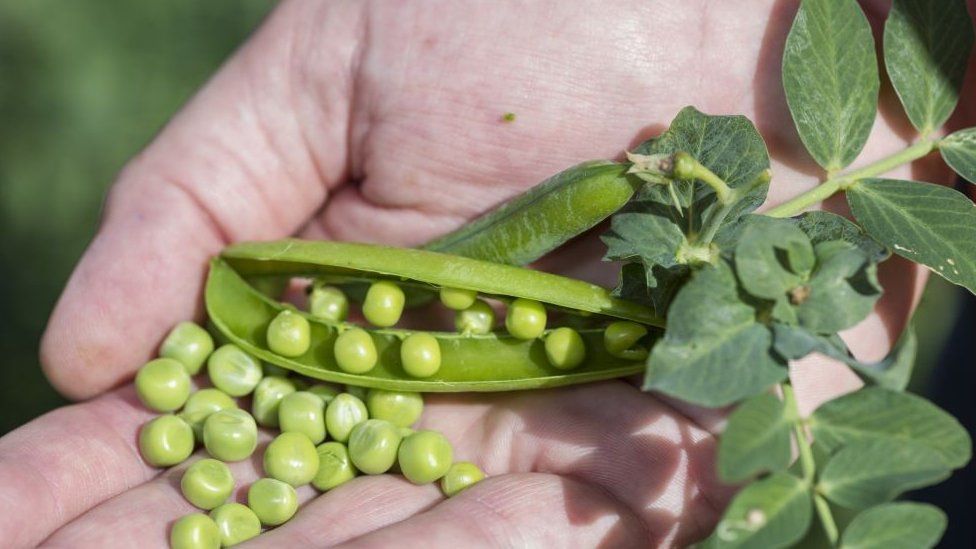 UK pea growers are warning of shortages in supplies following the recent hot weather.
Growers say the heat and lack of rain means peas are struggling to form in their pods and that crops will be 20-30% below normal levels.
The pea crop is the latest casualty of the summer's unusual weather.
The UK is the biggest consumer of peas per head in Europe, and it is also the biggest producer of peas for freezing.
Ian Keyes, director of Yorkshire-based Swaythorpe Growers - one of the biggest growers in the UK, said levels were "dropping dramatically".
"Each pea plant is currently yielding between three and four pods - rather than the six to seven usually seen. It's a combination of drought and heat, and peas are not standing up to that very well."
Despite being the biggest producer, the UK's demand for peas means it also imports them.
Mr Keyes warned that the shortage in the UK coupled with problems in other countries would see prices could rise: "We're very worried as an industry. For the first time we won't be able to make up the shortfall from elsewhere.
"Spain and Portugal had a poor harvest, while Hungary's was poor and Poland's a complete write-off. Those normal sources of extra supply are simply not there. There will inevitably be some price increase."
Life for the lettuce, however, has improved, says Dieter Lloyd, from the British Leafy Salad Growers Association (BLSGA): "The temperature has dropped, which is a lovely thing for a lettuce."
Mr Lloyd said that lettuce supply had been squeezed by rising demand, which perks up as the heat rises, and production difficulties because of that same heat.
He said: "When the temperature is around 22 degrees, demand rises by about 10-20%, but when it reaches 28 degrees, as it was at the beginning of the month, demand rises by about 40%."
However, he said that the UK was still having to import lettuces from Spain, Germany and Poland, whereas normally at this time of year the UK was normally pretty much self-sufficient.
Mr Lloyd said prices may rise: "There is an impact on price - it hasn't fed through to retail prices as yet - but we are anticipating this. Wholesale prices are already up by about 20-30%."
He also warned that shortages could affect other crops, such as celery, onions, carrots, broccoli and cauliflower, which are also being affected by high temperatures.