Poundworld to close 40 more stores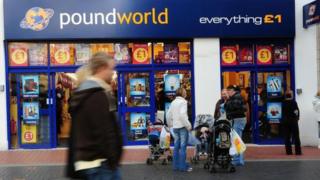 Poundworld has said it will close a further 40 stores, resulting in 531 more job losses.
The discount goods retailer, which went into administration in June, said the stores would close on 24 July.
Poundworld had already announced plans to close 105 of its 335 stores, having failed to strike a rescue deal.
Its administrators, Deloitte, said they were still looking for buyers for all, or parts, of the remaining business.
Clare Boardman, joint administrator, said: "We would like to thank all the employees for their continued support and commitment during this difficult time. We are keeping staff appraised of developments as they happen."
At least two potential rescue deals have failed so far, including one from the chain's founder Chris Edwards, who was offering to buy around half of the stores.
Mr Edwards, who founded Poundworld in 1974, was critical of how his offer was received by Deloitte, and said he was "shocked and surprised" that he was turned away.
In June, Alteri investors, which specialises in buying struggling retailers, also pulled out of takeover talks.
Poundworld went bust in early June after struggling with tough competition on the High Street from rivals including Poundland and Poundstretcher.
It was also hit by the fall in the value of the pound after the 2016 Brexit referendum, which has pushed up the price of imported goods.
Poundworld employed about 5,100 people before it went into administration and around 1,800 redundancies have been announced since then.
Deloitte has also made 100 people redundant at Poundworld's head office in Normanton, West Yorkshire.