Rail ombudsman created to handle rising tide of complaints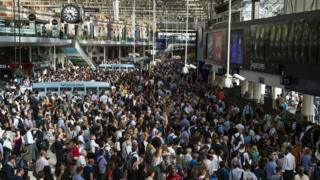 A new rail ombudsman is to be set up to handle complaints from passengers about train travel.
Complaints about train services are currently running at over half a million a year, following widespread dissatisfaction.
The ombudsman will deal with complaints that have not been resolved by train operators or passenger groups such as Transport Focus.
It is thought around 6,000 complaints a year will be referred to the service.
All the UK's train operators have signed up to the ombudsman, meaning they will be obliged to take action if failings are identified.
"This is an important step by the industry. An independent and effective ombudsman, working closely with consumer groups, will ensure passengers get a fair deal and give them a stronger voice," said rail minister Jo Johnson.
"And it will also help the rail companies to improve their service to passengers."
'Real redress'
The news was welcomed by consumer groups.
"For the many passengers who are tired of being badly let down by train services and having their complaints ignored, the introduction of a rail ombudsman can't come soon enough," said Alex Hayman, managing director of public markets, at Which?
"While the introduction of an ombudsman service is welcome it's vital that it is introduced without further delay and that it provides real redress for passengers, so the rail system can start working for passengers, not just train companies."
However the Campaign for Better Transport said what it really wanted to see was a better train service, so passengers had no need to complain in the first place.
The rail ombudsman is expected to be up and running from November this year.