A stylishly affordable success story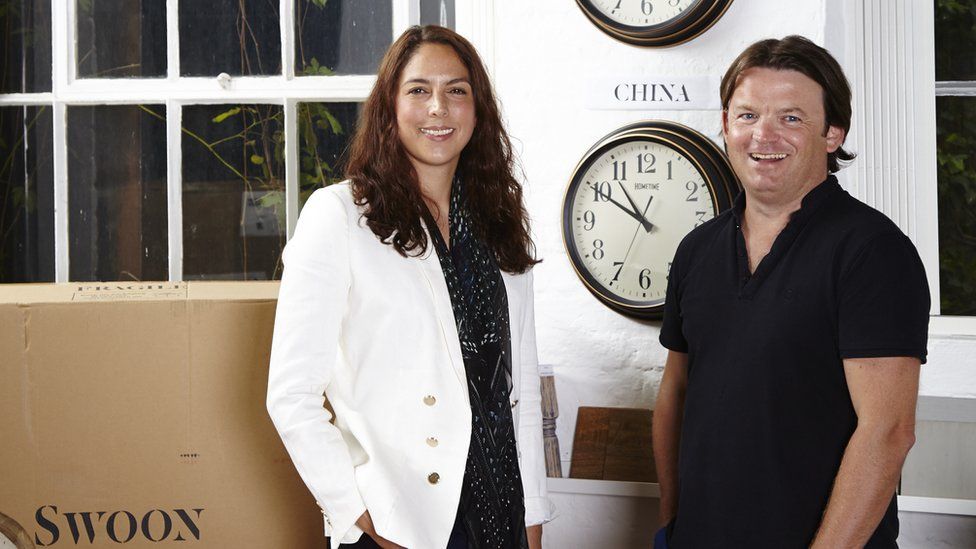 The BBC's weekly The Boss series profiles a different business leader from around the world. This week we speak to Debbie Williamson and Brian Harrison, who founded Swoon.
As she boarded a flight to India back in 2012, Debbie Williamson knew she could not come home until she had found a supplier for her new online furniture business.
"I hung out in every cafe, and spoke to local businesses - I wanted to find out which supplier manufactured a French armchair that I'd had my eye on at home," she recalls.
"It was retailing at nearly £1,300 and I knew that there must have been a huge mark-up. I wanted to meet the supplier and see, if we removed overheads like shops, warehouses and middlemen from the equation, if we could make products like these more affordable for our potential customers."
On her trip to India she ended up seeing 20 suppliers in Rajasthan before finding the right supplier to make her chairs - and Swoon was born.
Ms Williamson was inspired by a love of the furniture showcased in the interiors magazines she was obsessed with, but disliked their price tags.
The former head of digital product at the Telegraph Media Group decided to join forces with Brian Harrison, who had been digital director of the newspaper publisher.
Both were keen to start their own venture, and given Ms Williamson's passion for interiors, they identified a gap in the market for an affordable online-only furniture retailer.
After investing £10,000 each, the pair ordered enough of the grey French armchair, which they called the Lille, to fill a shipping container. "We put an advert in the Telegraph, hoping we'd get a few orders, but they came through thick and fast. By the end of the next day we'd sold the whole container. It was that moment that we knew we were on to something," Ms Williamson says.
Swoon now sells 1,200 items ranging from settees to bar stools, sourced from as many as 20 suppliers. Despite having 100 staff across their London, Indian and Vietnam offices and an annual turnover of £20m, both she and Mr Harrison stress it was not an easy road to success.
"We made so many wrong decisions and came up against lots of problems along the way - even just the basics, [such as] opening merchant bank accounts and finding people to process your transactions online, which was obviously a big part for us," he says. "With a new brand that no-one knows it's much harder to get people to take you seriously, but you just have to be really persuasive."
More The Boss features, which every week profile a different business leader from around the world:
The goal of offering quality products at affordable prices meant being an online business from the start. They also had a design focus in mind, Ms Williamson explains: "We wanted to focus on statement pieces that really transformed and elevated the room, rather than have particular collections. We also wanted to be bold with texture and design."
After their first sales, Swoon started to add more suppliers from around the world - with two or three more in the next 18 months, and then adding another four or five a year after that.
"It's important that we got that part right, so I needed to meet them and make and build that relationship," says Ms Williamson. "Over the years we've been to meet 500 suppliers, but only use 20."
They initially went with her judgement when deciding what items to sell. "I was so obsessed with the interiors world so I had an extensive knowledge of what the trends were," Ms Williamson says. "We'd then work with these trends and give it our feel, finish and add details to a piece to make it stand out."
Today the concept is more driven by data. Swoon's business model involves launching a new design every day to assess the growing market. "There's no point filling our online store with products that people don't want. So we produce limited quantities of new products to test the demand for them," Mr Harrison says.
"We leant very quickly, and expensively, that buying a shipping container full of a product that no-one wants is a bad idea. This way we can explore different designs very quickly and adapt to consumers' changing taste."
Swoon's obsession with what customers want has been instrumental to its success, according to Ivan Mazour, chief executive of Ometria, a customer-marketing platform.
"It religiously uses data and feedback to shape its constantly evolving product line - a model Zara has deployed successfully in recent years, maintaining 'newness' with regular rollouts of new products," he says.
Funding of £20m from Octopus Ventures, an investment firm, has allowed Swoon to grow, employing more people and expanding their product lines. It has a stake in the company, but the co-founders retain a "significant" share.
Many staff who joined in the early days now have more senior roles, although the finance chief is from Asos and the marketing boss used to work at the WPP-owned advertising agency Grey.
A furniture retail background isn't particularly something they look for either. "It's more of a learning experience for us to bring in people who don't necessarily have a homeware and furniture retail background, as they have different ways of thinking," says Ms Williamson.
"Some of our design team come from boutique studios who have designed hotels and restaurants - that gives us a different perspective on who's doing what and where the next trends lie."
While it is an online business, Swoon has partnered with Debenhams in London's Westfield shopping centres to showcase some of its ranges.
It is also planning some pop-up stores in various UK cities in a bid to win new customers, while international expansion is on the cards too.