Why are more retail staff working nights?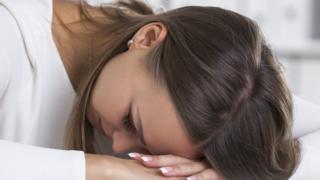 It is 09:00 in the morning and Amy has just finished her night shift at a supermarket in Greater Manchester.
"Right now, I feel very tired," she says. "I feel cold, I feel groggy, I've got brain fog and I'm looking forward to getting some sleep."
Research for 5 Live Money has found that between 2007 and 2017, the number of retail workers working nights as their main shift pattern has gone up 50%.
Almost 70,000 people now work mainly nights in the UK retail sector, according to the Office for National Statistics (ONS).
Workers like Amy who only do nights are still in a minority, making up just 3% of the workforce.
But 27% also juggle changing shift patterns, which can include nights or early mornings. A decade ago, that number was 18%.
Shopping habits
Retail analyst Catherine Shuttleworth believes a huge change in our shopping habits is behind the increase in night working.
"Online is the biggest change in the sector and the requirement for delivery in 24 hours or less means more retailers are working shift patterns that will be across and through the night," she said.
According to the latest figures from the ONS, 17.4 % of all shopping was carried out online in June this year. A decade ago, that figure was 2.7%.
There have also been big changes in the make-up of the supermarket sector over the last decade. There's been a slow but steady increase in online grocery shopping, which is now worth £6.6bn in the UK and holds just over 6% of the market.
Meanwhile, more convenience stores have opened which require deliveries of fresh food.
The last 10 years has seen many more 24-hour supermarkets springing up, though that trend is now starting to change.
Tesco, for instance, has recently reduced the number of stores open 24-seven and says it is increasingly moving towards late-night working and early-morning working to fill shelves.
'Not worth the sacrifice'
The ONS figures also show the number of women who only or mainly work nights has gone up by 77% since 2007, though overall, more men than women work nights.
Mum-of-three Amy said she started working two nights a week because she couldn't afford the childcare to cover a day job.
She usually grabs a quick nap after work before taking the children to school. Her constant exhaustion has had a negative impact on family life, she says.
"It's not worth the sacrifice. The time I'm with my boys, I'm stressed and tired. I'm not myself."
School holidays are even harder. Amy said she can't afford to pay the £75 a day it would cost to put three children in a holiday club: "When the kids are off I basically just don't get any sleep. I'll be home for six o'clock and usually they get up for about eight o'clock. And so yes, basically I stay awake."
Should employers allow staff to nap on a nightshift?
Dr Helen McKenna from London's Royal Free Hospital has carried out research into optimising sleep on night shifts.
"Try to get a half-an-hour nap, if it is safe to do so and if your employer will allow it," she says.