Fire-risk domestic appliances 'are becoming harder to spot'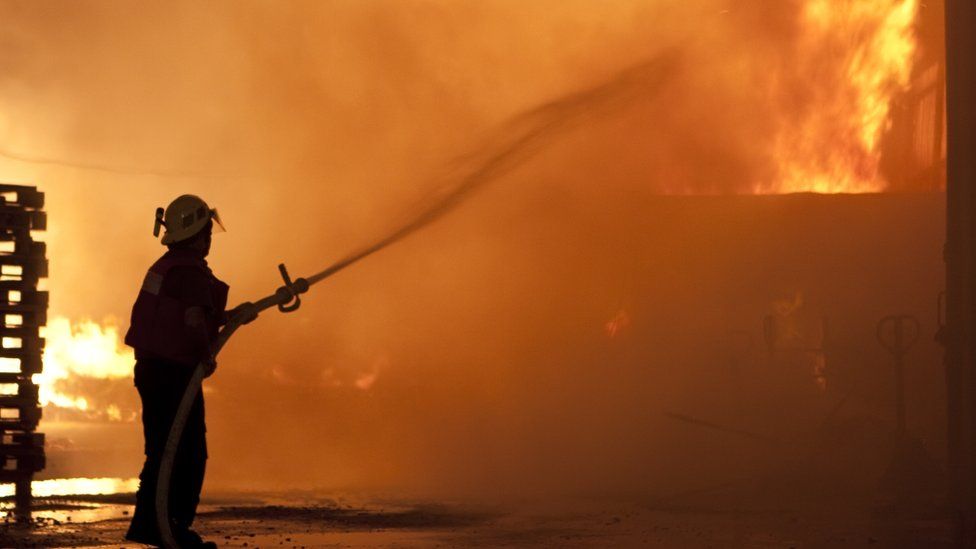 Fire investigators are finding it increasingly hard to identify which white goods have caused fires, according to consumer group Which?
It said people's lives could be endangered because investigators could only identify an appliance's make and model in a third of fires.
That makes it harder to spot and recall dangerous fridge freezers, washing machines and tumble driers.
Which? wants to see fireproof labelling on all appliances.
The consumer watchdog found that, of the 3,203 fires in the UK caused by faulty appliances between 1 April 2016 and 31 March 31 2017, investigators could only find the product make and model information in 33% of cases.
In the previous three years, investigators had been able to identify the make and model in nearly half of white goods fires.
Which? said non-identification made it harder to hold manufacturers accountable for unsafe products, and that lives could be at risk.
Alex Neill, Which? managing director of home products and services, said the number of fires caused by faulty washing machines, tumble dryers and fridge freezers had stayed "shockingly high" for a number of years.
However, she added: "Our research shows it is getting harder to identify the make and model of the appliance in the majority of instances."
Which? is calling for the Office for Product Safety and Standards to make manufacturers use fireproof labelling on all of their appliances such as a serial code on a small metal plate similar to the vehicle identification number used on cars.
Ms Neill said: "The government must set out in its forthcoming product safety strategy how it will ensure that manufacturers use fireproof labelling on all of their appliances, so that identified dangerous white goods can be quickly removed from people's homes, and potentially save lives."
London Fire Brigade deputy assistant commissioner Charlie Pugsley, the brigade's head of fire investigation, said he backed Which?'s call: "We have campaigned for years for white goods to be marked with the model and/or serial number so that even if an appliance is badly burnt, it can still be identified.
"Our research showed in serious fires, white goods were not identifiable in up to 50% of cases due to lack of distinguishing marks.
A Department for Business, Energy and Industrial Strategy spokesperson said the government was committed to investigating how to ensure products are identifiable in the event of a fire.
"Britain's product safety requirements are among the highest in the world. Since 2010/2011 the number of fires caused by household appliances has fallen and, through the Office for Product Safety and Standards, the Government is investing an extra £12m a year to further protect consumers."