China says there will be 'no winner' in global trade war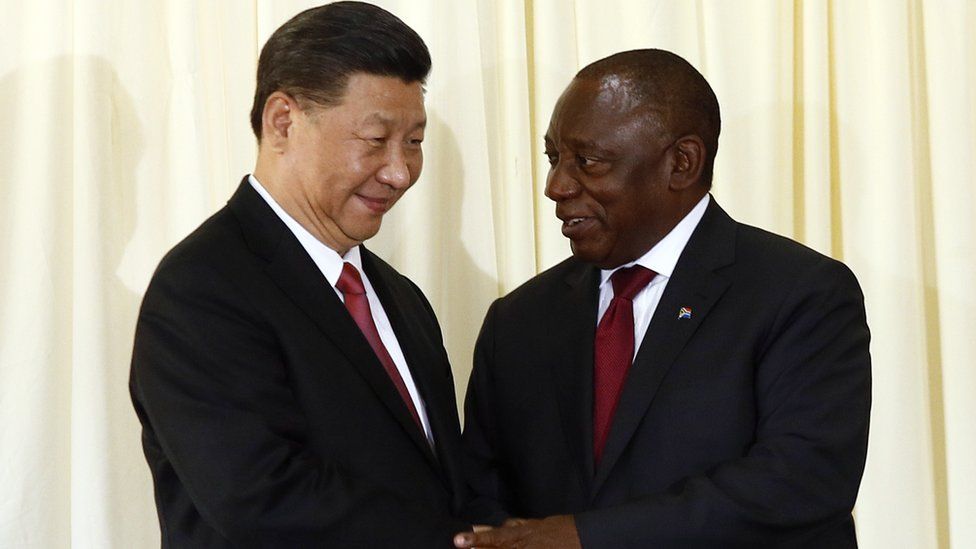 China has told developing nations there would be no winner in a global trade war.
Chinese President Xi Jinping called on Brazil, Russia, India, China and South Africa (BRICS) to reject protectionism.
South African President Cyril Ramaphosa also warned of the impact that tariff threats by US President Donald Trump would have on developing countries.
They were speaking at a three-day meeting of BRICS leaders in Johannesburg, South Africa.
The BRICS countries comprise more than 40% of the global population but have never worked as a co-ordinated economic bloc.
"We should be resolute in rejecting unilateralism," Xi said at the opening ceremony. "A global trade war should be rejected because there will be no winner.
"Unilateralism and protectionism are mounting, dealing a severe blow to multilateralism. China will continue to develop itself with its door wide open."
Xi also said the collective rise of emerging markets and developing countries "is unstoppable and will make global development more balanced".
Last week, President Trump said he was ready to impose tariffs on all goods imported from China - worth $500bn (£380bn).
Mr Ramaphosa said: "We are concerned by the rise in unilateral measures that are incompatible with World Trade Organization rules and are worried about the impact of these measures, especially on developing countries."
South African Trade Minister Rob Davies said the country was suffering collateral damage from the US tariffs on steel and aluminium. He said 7,000 South Africans work in jobs affected by the metals tariffs and attempts to get an exemption from the US government had been unsuccessful.
An additional 22 countries are taking part in this week's summit, 19 of them from Africa.
After the opening ceremony President Ramaphosa announced that China had promised investments worth $14.7bn into South Africa.