US carmakers hit by tariffs disputes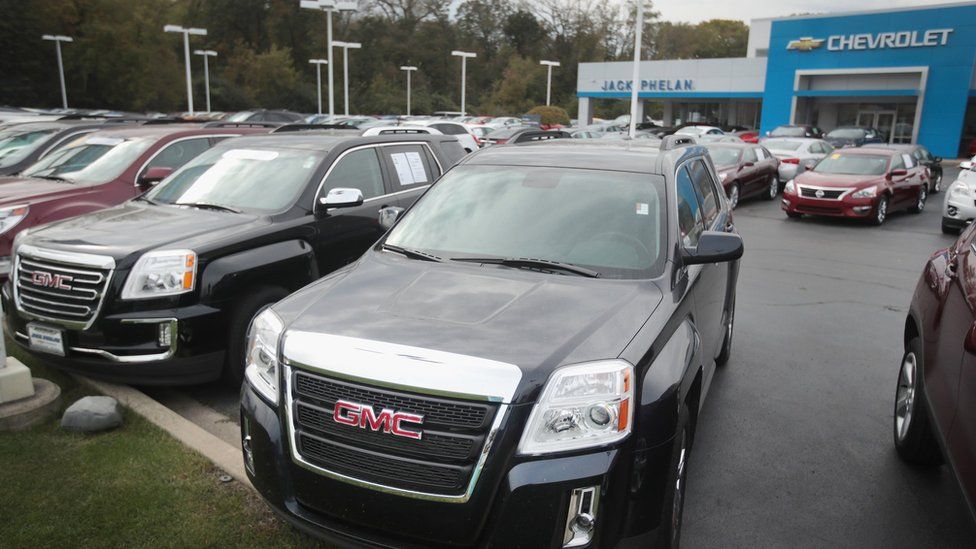 Three major automakers have warned that changes to trade policies are hurting performance.
Ford and General Motors lowered profit forecasts for 2018, citing higher steel and aluminium prices caused by new US tariffs.
Fiat Chrysler also slashed its 2018 revenue outlook, after sales in China slumped as buyers postponed purchases in anticipation of lower car tariffs.
Shares in all three companies fell after they reported results.
General Motors shares ended the day about 5% lower, while Fiat Chrysler shares sank about 11%.
Shares in Ford, which reported its earnings to investors results later in the day, dropped about 4% in after hours trade.
Ford said tariffs, including on steel and aluminium, could cost it up to $1.6bn (£1.2bn), while General Motors said higher metals prices would add about $600m-$700m to costs.
General Motors chief executive Mary Barra said the firm had anticipated higher costs this year, but "the challenge has become significantly greater than we expected".
At Fiat Chrysler, executives said fixed price contracts have helped to shield it from some of the impact of higher metals prices, but they warned those expenses would rise in 2019.
'Uncertain and volatile environment'
Ms Barra said the firm had been in frequent contact with the White House about how trade policies would affect its business.
In addition to the metals tariffs, the Trump administration is considering placing new duties on foreign vehicles and car parts.
Carmakers are also grappling with questions about the renegotiation of the North American Free Trade Agreement (Nafta).
General Motors said it is also worried that trade tensions could eventually put buyers in China off American brands. China is GM's biggest market after North America.
"We are in a very uncertain and volatile environment at this time," said GM chief financial officer Chuck Stevens.
The warnings came amid disappointing quarterly results.
Ford revenues slipped by 2.3% to $38.9bn, while profits nearly halved as sales in China fell and it halted some production due to a fire at a key parts supplier.
At GM, sales and revenue fell almost 1% to $36.8bn, despite gains in the US, where the number of vehicles sold to dealerships increased by 4.6% amid increased demand for pickup trucks.
The firm reported profit of about $2.4bn, down roughly 2.8% year-on-year.
Fiat Chrysler revenue increased 4% in the quarter to almost 29bn euros, but profits tumbled by 35%.
The firm said it expected sales in China to rebound, but faced future challenges as new emissions rules in the country come into effect.