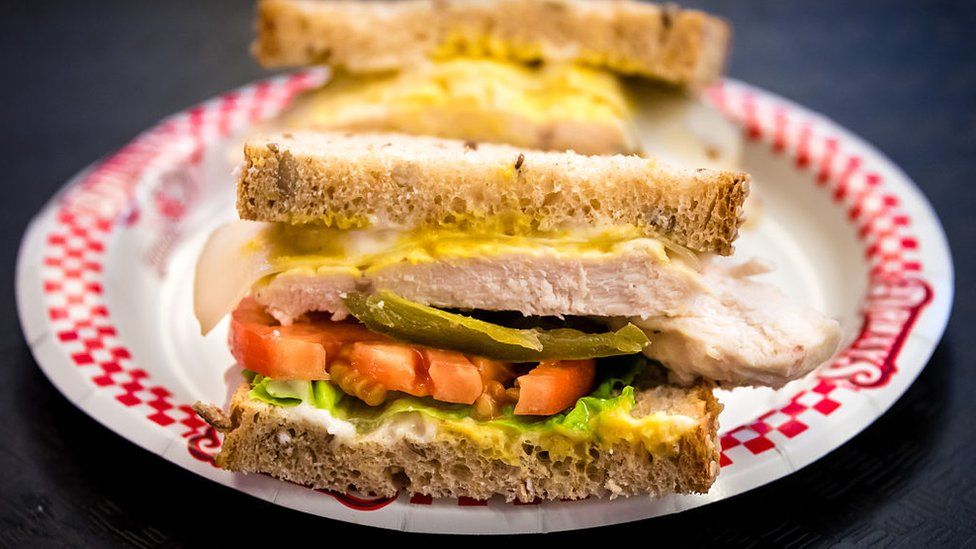 Sandwiches would be one of the first victims of a breakdown in the food supply chain in the event of a disorderly no-deal Brexit, according to a senior grocery executive.
"If you look at the ingredients - a bit of lettuce, tomato, maybe avocado, chicken with a bit of mayonnaise - all prepared fresh and kept chilled, sandwiches would be some of the most vulnerable products if food supply chains were interrupted."
The space between two pieces of bread is perhaps unlikely new territory for Brexit contingency planning but it reflects an area of serious concern that government ministers have been quizzed over this week.
Although they have said they hope and expect a deal to be done - they are making emergency preparations for the potential interruption to vital supplies like fresh food now that they have said planning for "no deal" is being stepped up.
Responses from Brexit Secretary Dominic Raab have been slightly evasive on this issue. When asked by MPs whether the government was stockpiling food he said: "It would be wrong to describe it as the government doing stockpiling but we will look at this issue in the round and make sure that there is adequate food supply."
This has led to images being conjured of massive warehouses being filled with emergency rations to see the nation through as if on a war footing. So, if the government isn't stockpiling food, is anyone else? Is it even necessary?
Food retailers are understandably reluctant to talk openly about empty shelves but this is what I've learned.
First - every major food retailer I've spoken to is quite clear they have NOT been approached by government to start redirecting any food to some sort of emergency reserve.
"It wouldn't work anyway," said one. "Fifty percent of the food we eat is either fresh or chilled - that includes ready meals - so warehousing wouldn't help".
There is another problem according to another.
"There simply isn't any spare slack in the supply chain to do this. There are no slightly-under-packed lorries or empty warehouses available to do this at scale. To suggest it could even be done if required is incredibly naive."
Most agree there is a real potential threat.
The Beast from the East was essentially two days of snow and it resulted in empty shelves starting to appear in some supermarkets. "Crashing out of the EU without a deal could potentially see the ports overwhelmed, with gridlock that could take days to work through and that would be a massive problem."
So neither the government, nor industry, is stockpiling food - but that does not mean that food retailers aren't making contingency plans.
Most of them get a lot of fresh food from the southern hemisphere in winter and the northern hemisphere from spring onwards - some are looking at extending their southern hemisphere sourcing longer into the spring.
That makes sense according to Lord (Mark) Price, former boss of Waitrose and trade minister. "In late March/early April you would be switching from southern to northern hemisphere providers for some produce so it would make sense to stretch that."
Lord Price downplays the chances of shortages of food availability but concedes that prices would probably rise. "If you are suddenly operating on WTO rules (which impose tariffs on most agricultural products) then clearly there are going to be price increases in some goods and the extra demand for supplies from outside the EU will also push up prices."
There is another option to solve a potential food shortage - and one that some grocery executives think will be exercised if the UK looks like it could run out of food. "The soundings we are getting from government is that if we are facing disaster, we could simply extend Article 50 (the two-year Brexit stopwatch that started running when it was triggered in March 2017), said one.
Staying in the EU for a bit longer would keep the chiller cabinet full of sandwiches - but it would doubtless raise the political temperature.