Are online bookings killing restaurants?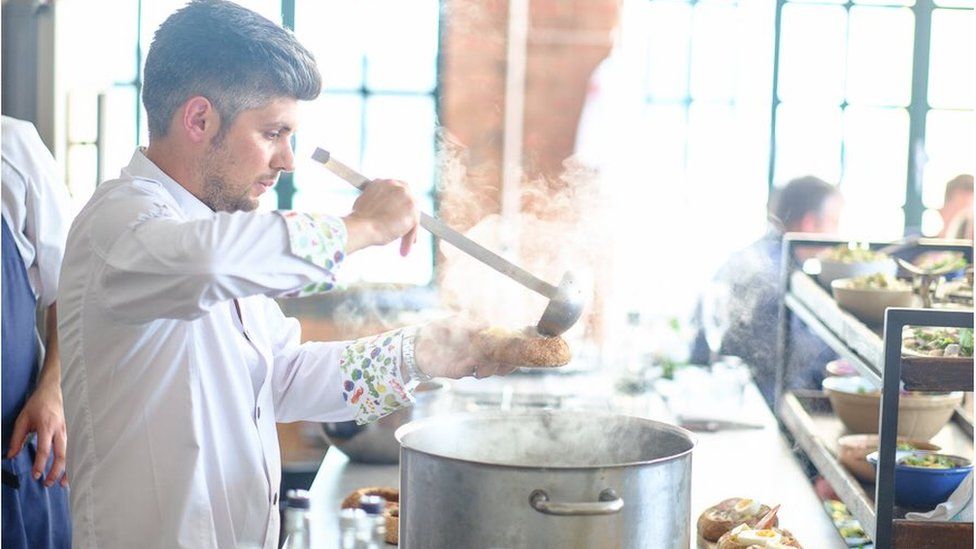 It's no secret that UK restaurants are struggling, with a clutch of big-name chains announcing closures in recent months due to weaker demand and rising overheads. But it seems another issue is adding to their woes - people not turning up for bookings.
According to some estimates, "no-shows" account for 5-20% of total restaurant bookings across the country and can cost venues thousands of pounds a month.
One example is the Beach House restaurant in Oxwich, Gower, south Wales, which reported having more than 100 last-minute cancellations over 10 days in April, "most of which were no-shows".
In 10 days we experienced >100 last minute cancellations, most of which were no shows. We estimate that on any given day, between 10-20% of our guests with table reservations will not show up. Unfortunately, we are now introducing deposits on our busiest services. #stopnoshow pic.twitter.com/PZeSaN2Oa4

— BeachHouseRestaurant (@BeacHouseOxwich) April 8, 2018
"I think over the Easter weekend we lost about £3,000," says managing director Neil Kedward.
"Any restaurant has a fragile economic model, and if a third of your covers don't turn up it can have a huge impact."
Damian Wawrzyniak, head chef and owner of House of Feasts in Peterborough, got so fed up with the problem he started a Twitter campaign called #StopNoShow which has since gone global.
At its worst, he says, his high-end restaurant had 10-15 no-shows a month and sometimes for groups as large as 18 people. It can mean lost revenue, hiring too many staff for an evening and wasted food, Mr Wawrzyniak says.
He blames third-party online booking sites, such as Bookatable, Resdiary and OpenTable, which advertise "thousands of deals" and let you make multiple reservations. OpenTable, however, does stop diners making several bookings in the same timeslot and blocks users who accumulate four no-shows within 12 months.
Jay Rayner, the Observer's restaurant critic, thinks online booking has also depersonalised the relationship between restaurants and their customers.
"If you talk to an individual when you book, some form of connection has been made and it's much harder to screw a restaurant around. If it's all online people think less about the consequences, which is reprehensible."
One regular restaurant goer, Nicola Fahey, says she eats out once or twice a week and doesn't turn up for about half of her online bookings.
"If you have booked through Bookatable you feel that you don't really have access to the restaurant to call and cancel - you'd have to look them up or Google them, which is a hassle.
"You also think they're going to fill the spot, although if the restaurant has a massive three-month waiting list I would be more inclined to ring."
She does feel "a bit bad" if she has spoken to someone at the restaurant in person then doesn't show up, but doesn't really think about it if she booked online.
"In fact, I don't think I'd ever call up and cancel if I'd booked online - there's no guilt, there's no connection... I wouldn't even consider if it would have an impact [on the business]."
Now some restaurants are fighting back and asking for non-refundable deposits upfront.
The Crockers Chef's Table in Tring, Hertfordshire began charging £10-25 per head a few years ago, which would then be deducted from the final bill.
But after a resurgence of no-shows in July, owner Luke Garnsworthy increased this to 50% of the cost of a meal (the restaurant only serves set menus at £45 or £80 per head).
"Even if someone pays a deposit and doesn't show up you are still left out of pocket," he explains.
Others are going further and selling prepaid tickets for a meal in the same way as a theatre would for a play. Adopters include Heston Blumenthal's Fat Duck in Bray and The Man Behind The Curtain in Leeds.
Mr Kedward says the Beach House Restaurant has virtually stamped out no-shows since April, when it began charging a £20 per head penalty for drop-outs or late cancellations. This is taken from the booker's credit card if they don't turn up. However, some restaurant-goers dislike such charges.
"I have been put off places who have asked for a deposit, for example for someone's leaving lunch at work," Becky Tanter tells the BBC. "It's hard to get people to commit to that and you risk losing money if you pay it yourself and someone drops out."
Carina Comeau says: "It's rude not to call and cancel. However, a non-refundable deposit isn't right either. Unfortunately there are costs of doing business that the company must eat (pun intended)… and losses from a no-show are one of them."
Mr Wawrzyniak says he would never charge fines or deposits as it might deter the regulars on which his restaurant depends.
But he says he has reduced cancellations to zero another way: by taking his restaurant off third-party booking sites and raising awareness about no-shows on social media.
"We tell people about our menu, the research that went into it, and the costs and the waste if you don't turn up.
"Now we get guests telling us they've heard about the campaign and that they think no-shows are unacceptable, too."