Thomas Cook bookings hit by heatwave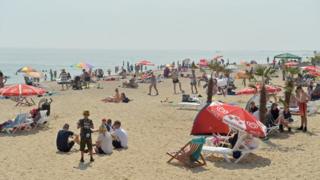 This summer's heatwave has hit profits at tour operator Thomas Cook, with more people staying at home rather than booking last-minute holidays.
While the company has reported an 11% rise in summer bookings, these have slowed down in recent weeks to leave its figures in line with last year's.
As a result, the company expects its annual earnings to be at the lower end of market expectations.
Thomas Cook usually makes all of its annual profits during the summer.
Chief executive Peter Fankhauser said that the overall rise in booked summer holidays had helped to offset the slowdown.
"Customers across our European markets have delayed decisions about their summer holidays as they enjoy the record temperatures at home," he said.
However, analysts remain optimistic about the company's long-term future, with financial services company Jefferies saying: "This year's abnormal weather does not affect our longer-term investment thesis, which remains unchanged."
Thomas Cook's share price rose by more than 3% on Tuesday morning.
Bookings made in the UK are up by 1% but prices have risen by 7%, mainly because of hotel price inflation in Spain.
Mr Peter Fankhauser added: "It's clear that we remain in a competitive environment, particularly in the UK where the growth in popularity of higher-margin destinations like Turkey and Egypt has not fully offset the continued pressure on margins to Spanish holidays."