Gove promises help for drought-hit farmers
By Lucy Hooker
Business reporter, BBC News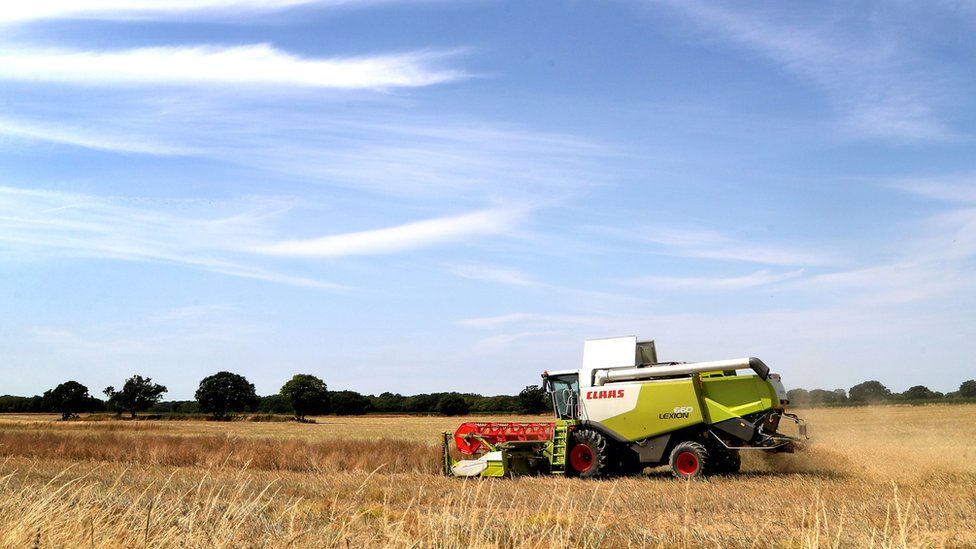 The environment secretary, Michael Gove, has promised support for farmers hit by the impact of the dry weather.
Following a drought summit with the National Farmers' Union (NFU), he said the government would do "whatever it takes" to maintain food supplies.
The NFU had requested relief from the "crippling impact" of the heatwave, including the relaxation of rules over accessing additional water supplies.
Mr Gove promised to remove bureaucracy where it was hindering farmers.
"We will make sure farmers have what they need in order to provide us with high-quality food and ensure their businesses survive," he said.
The record summer heatwave has put huge pressure on farmers.
Meat and milk producers, salad, fruit and vegetable growers, have said harvests and yields are being severely affected by some of the driest months since 1961.
Heavy rain in recent days has given farmers some relief, but the NFU was still "seeking urgent action" to help farmers.
NFU President Minette Batters said: "Today's summit was a wake-up call to government and policy makers about the importance of British food production and the critical need to manage the volatility that comes with it.
She welcomed Mr Gove's pledge to support the sector.
At the meeting she had sought more flexibility for farmers who want to take water from rivers, or have increased access to the public supply water when there is spare capacity in the system.
"We must also balance farmers' needs with those of wildlife and other water users so we will only allow these arrangements where we are satisfied there won't be any adverse effects on the environment," said Paul Hickey, the EA's head of water resources.
Cows sent to slaughter early as drought hits
Dairy farmer Abi Reader has already sent four milking cows to slaughter and she's planning to send four more as the cost of feeding them soars.
For livestock farmers like her the lack of rain means animals can't just be put out to pasture as usual.
Near Cardiff in Wales, where Abi Reader farms her 180-strong milking herd, grass is usually green and lush throughout the summer, she says, but the heat has dried it to a crisp yellow.
It's costing her £210 a day to keep them fed using silage and hay.
"We're breaking into winter stocks, that's the frightening thing," she says. It doesn't make economic sense to feed so many.
So they're "shedding passengers" - cutting down the number of mouths by sending cows to slaughter that would in better circumstances have continued milking. Two were cows that aborted calves due to the stress of the hot weather.
"We've lost a lot of money on them. The cheapest option is get rid of them and cut our losses," she says.
Ms Reader says she's not the only farmer taking this course of action. It was hard to find a slot for them in abattoir, she says.
John O'Farrell, who runs an abattoir in Camarthenshire, Wales, says many farmers are culling animals earlier than they would normally, following a bad grass growing season due to the harsh weather in March, which delayed the start of outdoor grazing, followed by the heatwave.
"Our volume of work is considerably higher than we would expect at this time of year," he told BBC Radio Four's Farming Today programme.
"Farmers are taking the view if the animals are to be culled it's best to cull early."
The same factors are having an impact on beef and sheep herds too, according to Nick Allen from the British Meat Processors Association.
"The first thing we noticed was people sending lambs in for slaughter at slightly lighter weights than normal," he says. "The moment they're running out of grass on the farm they get rid of them earlier."
He says if farmers go into winter short of feed and relying on expensive concentrates it will push up costs and could result in lower overall production of UK meat and milk.
"It could translate into meat being in shorter supply and prices having to go up because the cost of production is going to have to go up, without a shadow of a doubt," he added.