Creating start-ups against the odds in Brazil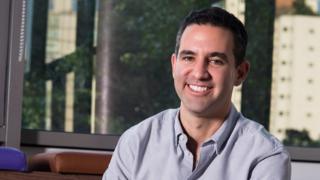 Colombian entrepreneur David Velez co-founded a digital bank in Brazil in 2013 around the same time similar ideas started to crop up in the US and the UK.
He was strongly advised by his friends to give up on the idea.
Brazil's financial industry is dominated by five national banks that control almost 90% of loans. In the recent past, international giants like HSBC, Citibank and ABN Amro have all left the country unable to compete with local players.
But today with four million clients, David Velez's Nubank is worth more than $1bn and is the biggest digital bank in the world outside Asia.
Tough environment
Mr Velez is one of a handful of people who took on the challenge of creating a successful and profitable start-up in Brazil - which is amongst the world's least innovative places.
Latin America's biggest economy ranks 176 in a World Bank list of 190 countries where it is easiest to start a business. It is also one of the world's most closed economies and a hard place for foreign players to thrive in.
Brazil only has two unicorns - tech businesses worth over a billion dollars - while in the United States there were 132 unicorns last year.
Both Brazilian firms reached that status only this year, which shows how slow it is even for successful start-ups to find their footing.
The first was 99taxi, a company that received major investment from Chinese group Didi Chuxing. The second, was Nubank.
Opportunity
Mr Velez says there are upsides to such a difficult environment for tech start-ups.
"In your day-to-day in emerging markets, you find frustration in every single corner. A lot of those frustration issues - such as transportation, banking, cell phones, paying the bills - are business opportunities for technology companies."
Nubank's disruption in the market was to create low-cost credit cards by getting rid of physical branches, that require renting or buying a place and staffing it fully.
Because of the high numbers of bank robberies, branches are a nightmare experience for consumers and have security checks similar to those in airports - where clients are required to store their laptops in lockers outside the branches.
With no branches, Nubank was able to offer lower interest rates to consumers - in a country where some banks charge over 400% in overdraft or credit card rates.
So far its growth is still limited to millennials and tech-savvy clients, but Nubank has been able to push Brazil's top five banks into investing more in their digital operations.
First come, first to serve
Entrepreneurs who are persistent enough, can reap huge rewards as first entrants in a domestic market of over 200 million people.
In developed economies like the US or Europe, competitors quickly replicate good ideas. But in emerging markets those who enter first often go unchallenged for years.
One of Brazil's best-known disruptors is Tallis Gomes who founded cab-hailing app EasyTaxi back in 2011, when Uber was still a novelty.
"In those days I had to go to cab stands and convince taxi drivers that they should buy a smartphone, so that they could use my app and get more clients. Most of them didn't even own smartphones back then," he says.
For some years, before Uber and Didi Chixung arrived in Brazil, EasyTaxi dominated the market and became a multi-million dollar tech business, in 400 cities across 35 countries.
In 2014, Mr Gomes sold his share for an undisclosed amount and is now intent on disrupting Brazil's beauty services market.
In 2015 he founded Singu, a company that helps manicurists, masseuses and beauty technicians find clients. Many used to pay 70% of their revenues to beauty salons but Singu uses its low-cost app to invert this, keeping just 30% of what workers earn through the app.
The platform is growing over 20% per month in Sao Paulo and Rio de Janeiro and Singu has now received almost $3m.
Size matters
Brazil's size is also a big advantage for start-ups. Singu says Brazil has the world's second biggest beauty market in the world, only behind the United States.
That is the same attribute that attracted Fernando Gadotti, co-founder of Dog Hero.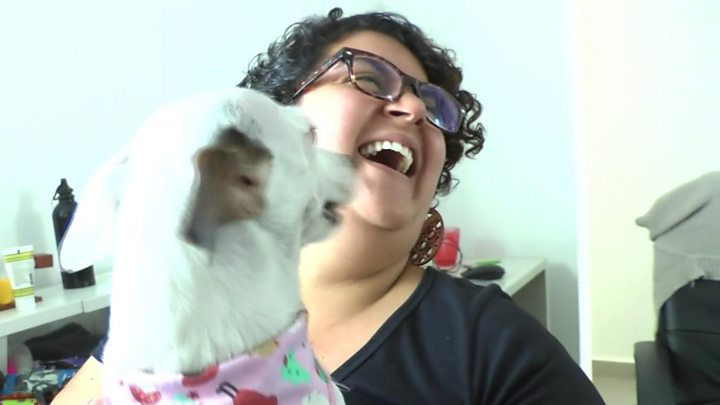 The firm connects dog owners with dog walkers or people willing to host pets in their homes for a few nights. Some can make as much as $2,000 a month.
The operation has grown to over 700 cities in Brazil, Argentina and Mexico.
Brazil has a population of 55 million dogs - the world's second biggest dog in the world after the US - and "dog parents" are not thrifty when it comes to taking care of their "kids".
Size was also an important attribute for Mariana Vasconcelos, a daughter of farmers who created a big data firm, called Agrosmart, for Brazil's powerful agribusiness sector.
Her sensors help farmers decide on where and by how much to irrigate and seed crops, for instance and with clients like Coca-Cola and Syngenta, the business has grown quickly.
Time and money
But making it in Brazil is not easy and it can take years and resources to succeed.
Thomaz Srougi spent two and a half years creating a state of the art healthcare clinic in one of the largest slum areas of Sao Paulo, in Heliopolis.
Brazilians have free, universal healthcare but public clinics are so overcrowded that it can take months to get a diagnosis from a doctor, and only one in four Brazilians can afford private healthcare.
His Dr Consulta clinics connect patients with doctors directly - without the healthcare insurance companies.
Now it has over 50 high-tech clinics across Sao Paulo with over a million patients and has become one of the largest healthcare providers in South America.
Most of the patients are low-income families. His clinics serve almost as a co-working space for doctors, who are not employed by his company but provide their services in the facilities.
Healthcare solutions
Brazil was such an extreme case of inefficient public service and expensive private treatment that Thomaz Srougi argues that Dr Consulta has the potential to be replicated in many parts of the world.
"We were lucky to start this healthcare model in Brazil where we have way more flexibility to rethink and reboot the system.
"In other countries the system is so structured and overly-regulated, that I don't think that the solution for global healthcare will come out of wealthy economies.
"It is probably going to come out of places like Brazil, China and Asia."