Lloyds Bank sets aside another £460m for PPI claims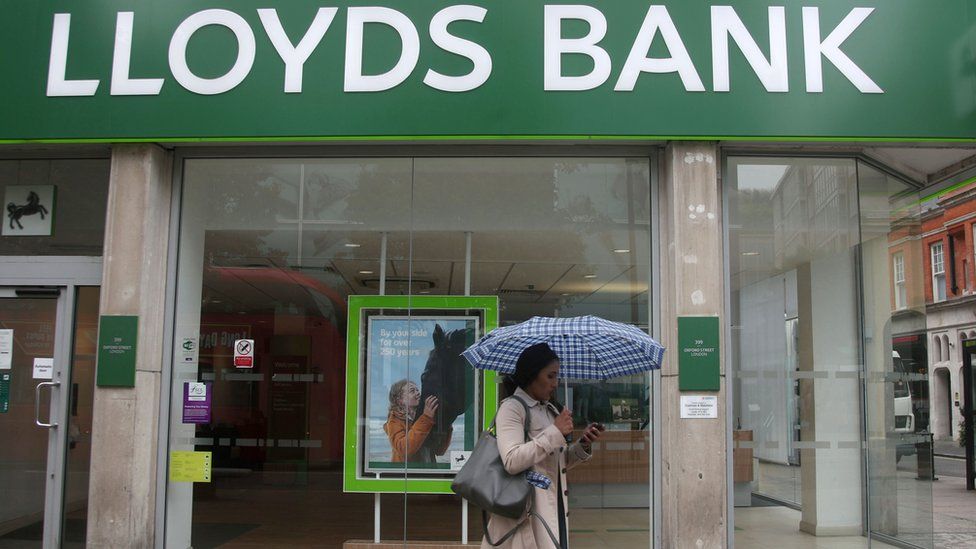 Lloyds Banking Group has said it has put aside another £460m in costs for payment protection insurance (PPI) mis-selling claims.
That means it has now allocated more than £19.2bn to settle the claims. The bank said it expected 13,000 PPI complaints a week until August 2019.
The provision came as Lloyds said its profits for the first six months of the year rose by nearly a quarter.
It made pre-tax profits of £3.1bn, 23% higher than the same time last year.
Chief executive António Horta-Osório said: "We have delivered another strong and sustainable financial performance with increased statutory profits, higher returns and a strong capital build."
Lloyds said the latest PPI charge was "largely driven by a potentially higher total volume of complaints and associated administration costs due to higher reactive complaint volumes received over the past six months and ongoing volatility".
It added: "The remaining provision is consistent with an average of approximately 13,000 complaints per week through to the industry deadline of the end of August 2019."
It said that every extra 1,000 complaints a week above that level would cost it another £150m.
The bank said it had sold an estimated 16 million PPI policies since 2000, including policies that were not mis-sold and those that had been successfully claimed upon.
It has already dealt with about 53% of those policies.
Analysis: BBC personal finance reporter Kevin Peachey
PPI mis-selling was a huge financial scandal and now, for many, the reason for a lot of unwanted calls about claiming compensation.
But it is worth stepping back for a minute to look at the staggering numbers involved.
Latest figures from the regulator show that in May alone, compensation of more than £400m was paid out by the industry.
No wonder banks were so delighted when a claims deadline was set for 29 August 2019.
On the flipside, claims management companies (CMCs) are furious. This week a trade body for CMCs claimed that half of us are unaware of the cut-off date.
They will be busy in the next 12 months, so expect more calls.
Despite those efforts, many people are missing out on compensation that is rightfully theirs and that they can claim themselves without charge.
It said it also had the largest digital bank in the UK, with active users increasing to almost 14 million, including about 10 million mobile banking users.
Lloyds said its balance sheet remained strong, with its common equity tier one capital ratio increasing to 15.1% pre-dividend.
It said it would pay an interim dividend of 1.07 pence a share.
The government sold its last shares in Lloyds in May 2017, eight years after pumping in £20bn to save it.
Lloyds' share price rose nearly 2%, but remains slightly lower than it was a year ago.
Laith Khalaf, senior analyst at Hargreaves Lansdown, said: "António Horta-Osório must be wondering just what he has to pull out of the bag to push the stock price up.
"Since taking over the reins in 2011, Horta-Osório has presided over a bank which has swung from an annual loss of £260m to a profit of £3.5bn. The share price, meanwhile, is at roughly the same level it stood at when he became CEO.
"That's largely because Brexit means some investors don't want to touch UK domestic companies like Lloyds with a bargepole.
"While this sentiment doesn't look like shifting any time soon, Lloyds shareholders are being paid to wait. The bank is expected to deliver a total dividend of 3.44p this year, equivalent to a 5.5% income yield. Not bad, if you can get it."