Heatwave causing farmers 'serious concern'
By Daniel Thomas
Business reporter, BBC News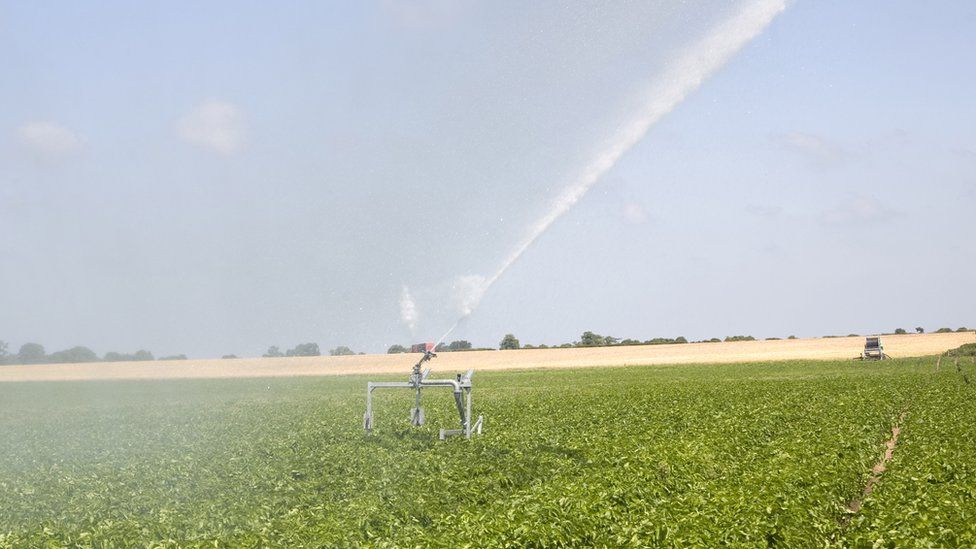 Farmers' representatives are warning of serious concerns if the extended spell of hot, dry weather continues.
Potatoes are the latest crop in line for price rises thanks to a shortage caused by an unusually cold winter, followed by the scorching summer.
The Agriculture and Horticulture Development Board (AHDB) said potatoes could cost more per kilo from autumn.
The heatwave is putting pressure on everything from livestock to lettuce.
So far this year there have been warnings about lettuce, broccoli, peas and carrots.
Now, AHD says potato planting is down 3% this year and what has been harvested is smaller than usual.
"This year growers have had the Beast from the East, then they've had it so hot and so dry this summer," Rob Clayton, head of potato strategy at the board, told the BBC's Wake Up To Money programme.
So they are just not getting the yields they would in a normal year and it's putting pressure on the whole system."
He said the UK had experienced similar crop shortages during the floods of 2012, which swept parts of the UK.
However, while retailers imported more from the Continent to fill the gap, this year many European countries are facing their own heatwave-related shortages, making topping up harder.
"So our options are limited. It means prices are going to be a little bit higher right the way through until next spring," Mr Clayton said.
It comes amid shortages of other vegetables, which helped drive food price inflation to 1.6% in July - up from the 1.2% in May and June, according to the British Retail Consortium (BRC) and Nielsen.
They found average prices of broccoli were more than 25% higher than a year ago at £1.54, after the severe heat meant brassica heads stopped growing.
A kilo bag of own-label carrots cost 8.3% more at 65p, while a pack of two Little Gem lettuces was up 4.5% at 75p.
Livestock are also struggling to breed in the record hot temperatures, Mr Clayton said, while stocks of animal feed are running low.
Minette Batters, president of the National Farmers Union, told the BBC: "The situation on the ground is hugely challenging across all sectors.
"There could be serious concerns for many farmers if this extended spell of warmer, drier weather continues.
She added: "This unprecedented spell of weather really should be a wake-up call for us all. It's a timely reminder that we shouldn't take food production for granted."
Mr Clayton did say some crops would thrive in the hot weather, however, including soft fruit such as strawberries and raspberries.