Indra Nooyi: 'Everybody's watching you'
By Natalie Sherman
Business reporter, New York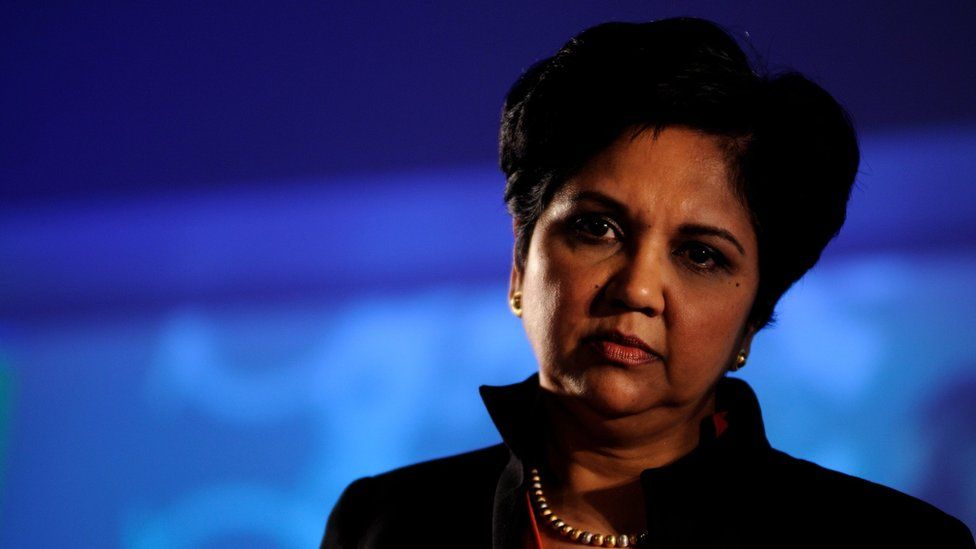 Indra Nooyi was an unusual presence at the top of the business world.
An immigrant and a woman, she served as chief executive of PepsiCo for 12 years - a position that placed her among the world's most powerful corporate titans, overseeing a business that sells more than $63bn worth of products each year and includes 22 global brands, including Frito-Lay, Gatorade, Quaker and Tropicana.
When she was named chief executive in 2006, she was one of fewer than a dozen women at the top of America's 500 largest public companies.
"You're now a role model. Everybody's watching you and these jobs are very hard, so one has to be very careful that you take it all in stride," she told the BBC in 2011.
"Don't let the privilege and the trappings... go to your head. Keep your legs firmly rooted to the ground and focus on the responsibility of these jobs and that's all I do."
Born in the city of Madras, now Chennai, in the south of India, Ms Nooyi, 62, has credited her family with instilling her with ambition.
Her mother required her to prepare speeches on important topics of the day; her grandfather, a judge, practised maths problems with Ms Nooyi and her siblings.
"He was just a giant of a figure in our family and... was just very focused on making sure his grandchildren... got the best education," Ms Nooyi told the BBC in 2011.
She went on to study at Madras Christian College and the Indian Institute of Management, before moving to the US in 1978 to study at Yale University's School of Management.
After various business roles, including at Motorola, Ms Nooyi started her career at Pepsi in 1994, rising to become president and chief financial officer in 2001 and chief executive in 2006.
Ms Nooyi, whose tenure coincided with the recession and a backlash against sugar-laden sodas, pushed the company to take on new businesses, expanding into foods perceived as healthier, such as hummus and vegetable chips.
She also fended off a challenge from activist investor Nelson Peltz, who took a stake in the company in late 2012 after the firm had downgraded its profit forecasts. He had pushed for changes, including suggesting the company's beverage and food businesses were split.
Since she took over as chief executive in 2006, Pepsi's revenue has increased from $35bn to more than $63bn, while the share price has increased by about 80%.
"To be a CEO is a calling," she said in 2007. "You should not do it because it is a job. It is a calling and you have got to be involved in it with your head, heart and hands. Your heart has got to be in the job, you have got to love what you do, it consumes you."
Ms Nooyi, who is married with two daughters, has been frank about the tensions between her high-flying career and her family responsibilities.
"My observation... is that the biological clock and the career clock are in total conflict with each other. Total, complete conflict," she told The Atlantic in 2014.
In a Bloomberg interview, she said a wide network of support was essential if women are to "have it all", describing the importance of making trade-offs in the next breath.
"There will be heartache, there will be pain, there will be some collateral damage underneath the surface," she told Bloomberg. "You've got to live with it."