Turkey lira plunge: Minister pledges action to calm markets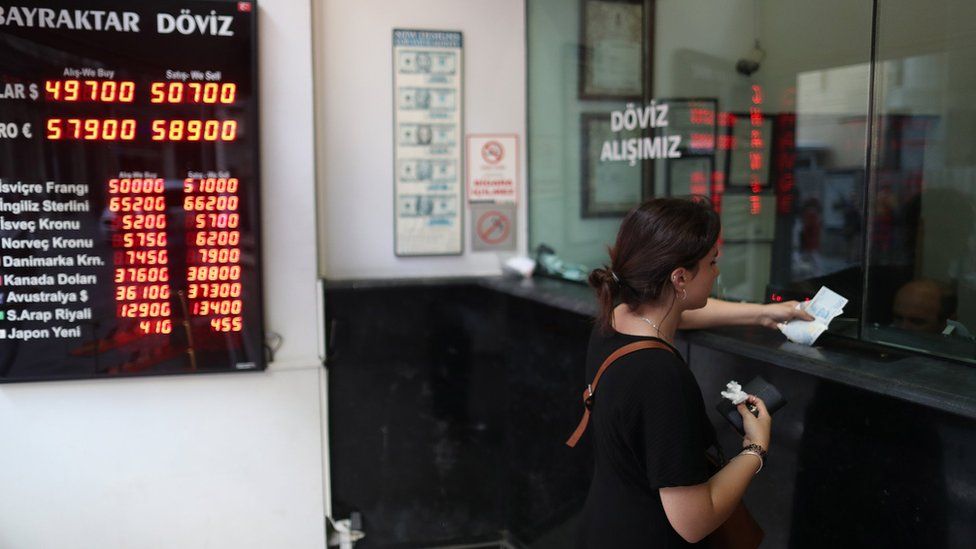 Turkey has pledged it will take action to calm markets after the lira plunged to a new record low in Asian trading.
The details would be unveiled shortly, the country's finance minister told Turkish newspaper Hurriyet.
"From Monday morning onwards our institutions will take the necessary steps and will share the announcements with the market," Berat Albayrak said.
The lira lost 20% of its value versus the dollar on Friday. It had already fallen more than 40% in the past year.
The latest blow came on Friday, when US President Donald Trump said he had approved the doubling of tariffs on Turkish steel and aluminium.
Concerns about contagion prompted investors to sell riskier assets on Monday including emerging market currencies and stocks in Asia.
Mr Albayrak said the country would "act in a speedy manner" and its plan included help for the banks and small and medium-sized businesses most affected by the dramatic volatility in the lira.
His assurance came after Turkey's president blamed the lira's plunge on a plot against the country.
"What is the reason for all this storm in a tea cup? There is no economic reason... This is called carrying out an operation against Turkey," he said.
Recep Tayyip Erdogan once again urged Turks to sell dollars and buy liras to help boost the currency.
"I am specifically addressing our manufacturers: Do not rush to the banks to buy dollars... You should know that to keep this nation standing is... also the manufacturers' duty," he said.
Experts have blamed the drop in the lira on fears that Turkey may be falling into an economic crisis.
The Turkish stock market has also fallen 17%, while government borrowing costs have risen to 18% a year. Meanwhile, inflation has hit 15%.
Investors are worried that Turkish companies that borrowed heavily to profit from a construction boom may struggle to repay loans in dollars and euros, as the weakened lira means there is now more to pay back.
Then there are Turkey's worsening relations with the US.
The dispute centres on Turkey's refusal to release American pastor Andrew Brunson.
Mr Brunson has been detained for nearly two years, accused him of links to the outlawed Kurdistan Workers Party and the Gulenist movement, which Turkey blames for a failed coup in 2016.
Trump's decision to double US tariffs on Turkish steel and aluminium has only exacerbated the situation.
What are officials doing about it?
Not much yet. Turkey's finance minister said they would start implementing an action plan on Monday but gave no further details.
Some would like to see Turkey's central bank increase interest rates. Not only would this help contain inflation but it would also help support the lira.
But there are fears that Mr Erdogan, who is famously averse to interest rate rises, may be pressuring the central bank not to act.
Early last month, he claimed the exclusive power to appoint the bankers that set interest rates - and to cement his control he has put his son-in-law in charge of economic policy. Mr Erdogan favours lowering borrowing costs to fuel credit growth and economic expansion.
Why is there so much fear of contagion?
Investors are worried that Turkish companies could struggle to repay loans in dollars and euros - a debt pile that only grows as the lira falls.
Concerns about contagion were recently reinforced by a report in the Financial Times saying that the European Central Bank is concerned about the exposure of eurozone banks to Turkey. In particular, the report flags that Spain's BBVA, Italy's UniCredit and France's BNP Paribas, all of which have significant operations in Turkey, are especially exposed.
Eight years ago, concerns about contagion during the eurozone debt crisis saw investors push up the borrowing costs of highly indebted eurozone countries, exacerbating their debt problems.
There are already signs that contagion is spreading, with investors selling riskier assets on Monday. Emerging market currencies fell on along with the lira, while Asian stocks fell across the board.