'People no longer go into antiques shops'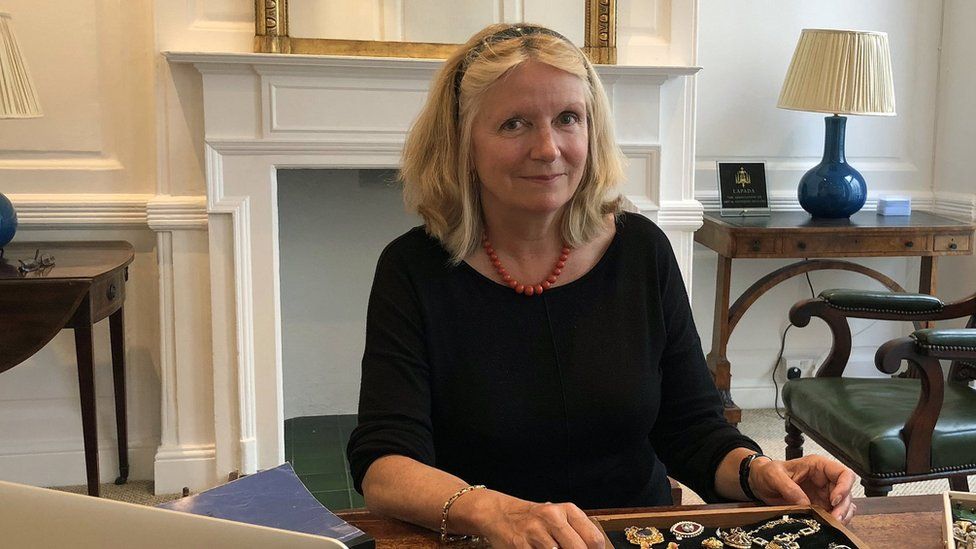 Traditionally antiques dealers have been used to dealing in objects from history in a style more in tune with tradition than cutting-edge technology, but no longer. The growth of online marketplaces and rising High Street rents are pushing many out of long-established shops.
After 35 years selling antique jewellery from Grays, an antiques market in Mayfair, central London, Olivia Gerrish decided it was time to move on.
"People haven't got the time to go into a place like Grays," she says. "They'd rather scroll through something online and choose something or choose a few things."
She had already made the leap of embracing new technology in her business when her son Matt, who works with her, decided that they needed an online presence as The Antique Jewellery Company a few years ago, but this summer she gave up her retail space in order to move into an office.
Alongside her regret, however, at the dwindling of face-to-face trading, is her pleasure at new encounters such as telephone conversations with couples wanting to buy antique engagement rings from as far away as Japan.
There's also the satisfaction of pushing forward with new technology like their recently launched app, which she says "seems to work well." Olivia still sees some customers by appointment, but generally people buy online, with 14 days to return unwanted pieces.
Internet trading in small items like jewellery or increasingly popular vintage watches would seem an easier task than trying to deal in large items like furniture, but even here being online has become essential, says James Bly. He's a fourth-generation dealer, who with his father John Bly, a furniture and antiques expert for many years on BBC TV's The Antiques Roadshow, operates out of a gallery in the King's Road, Chelsea.
"People who used to do their research would go round antique shops, ask questions, look at things and perhaps go away and think about it.
"Now it would appear that all that research is done sitting in an office or at home in front of a computer. They search for 'breakfast table', 'chandelier', or whatever it is and all the information comes to them - which means that we can't afford not to be accessible online."
And this opening up of antiques market is growing apace. Figures from thesaleroom.com, which describes itself as the world's premiere online auction site for art and antiques, show that £128m worth of items were sold through its platform in 2017 - a rise of 21% on the previous year.
The increase in international competition means, for example, that a Maori flute valued at £50-100 last year, actually sold on thesaleroom.com for £140,000 as a result of a buyer in Paris bidding against an Australian collector.
Dr Eleanor Quince, history lecturer at Southampton University, who has undertaken a study of Britain's antiques industry, says while dealers are divided as to whether the internet is negative or positive for business - many have felt the need to change their business model.
"Instead of having a fixed premises where you sell your stock, you might set yourself up as a consultant who is able to locate items for an individual or you might open only for those people who approach you because they want to buy."
Besides the internet, this shift is being driven by rising High Street rents, making it increasingly costly to keep open shops for passing trade.
One solution - adopted by Olivia Gerrish and many others - says Freya Simms, CEO of Lapada, the UK's largest association of art and antiques dealers, has been to move up to the first floor of premises rather than pay to have a shop front.
The idea is to compensate for a loss in passing trade by having a space for buyers to visit by appointment.
Yet alongside the challenges facing dealers, Ms Simms says online trading represents a big opportunity - especially to those using Instagram and Facebook.
"The next generation of young dealers are curating a look, they present their stock so that it represents a lifestyle. People see a look that mixes period with contemporary, making that their calling card."
Meanwhile, Olivia Gerrish says she now has a more relaxed working day compared to the beginning of her career when she got up at 3.30 am to arrive early at London's antiques markets where she stood for hours, examining items with torches, suffering in winter with "really cold hands".
She says she has no regrets for the hours in the cold as it was "great fun" and "I was younger then", and that she is looking forward to the next chapter in her business. "I'm pretty laid back, I get on the computer, upload some pieces that I have described, and my son photographs them."
For more on the changing face of the UK's antiques business - download or listen to all five episodes of Travis Elborough's BBC Radio 4 series, The Rise and Fall of the Antique.