RBS comes bottom of bank league tables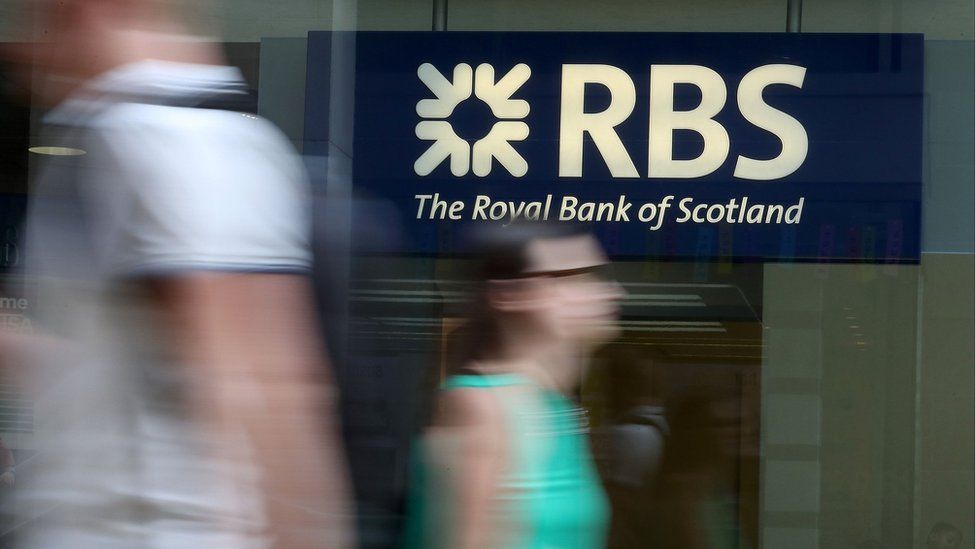 Fewer than half of Royal Bank of Scotland's customers would recommend its customer service to friends and family, according to rankings published for the first time.
The Competition and Markets Authority has published the figures in a bid to increase competition in the sector.
RBS is joint bottom of the personal banking league table, along with Clydesdale.
It is also at the bottom for business banking.
A review of retail banking in August 2016 by the competition watchdog ordered lenders to publish customer ratings figures twice a year.
Adam Land, senior director at the Competition and Markets Authority, said: "For the first time, people will now be able to compare banks on the the quality of the service they provide, and so judge if they're getting the most for their money or could do better elsewhere."
Customers were asked how likely they would be to recommend their bank on a number of measures, such as overall customer service, online and mobile banking, overdrafts and services in branches.
In terms of overall quality of services, 49% of RBS personal customers would be likely to recommend the bank to friends and family, with Clydesdale also at 49%.
First Direct, which is owned by HSBC, came top with 85% of its customers satisfied.
For business customers, just 47% of those with RBS would recommend the bank in terms of overall service quality. Handelsbanken came top with 84%.
A spokesperson for RBS said: "We are aware we have more work to do in order to improve our service standards and deliver a better experience for our customers."
The bank is "investing in improving the products and services we offer our personal and business customers" through the UK's first paperless mortgage and a digital lending platform for small businesses.
The results, from a survey of personal and small business customers, must be displayed in banks' branches, websites and mobile apps from today.
Christopher Woolard of the Financial Conduct Authority said: "Getting a good deal isn't just about pricing. It's also important for customers - including individuals and small businesses - to be able to judge the quality of service around their current account and to see whether other providers could offer something that suits them better."
After the CMA review of banking in 2016, an advertising campaign was launched by the industry in a bid to get customers to change banks through a seven-day switching service. The competition body found that just 3% of current account customers had changed banks in the past year.
The rankings were published as RBS said it would pay a dividend to shareholders for the first time since the final crisis after agreeing a $4.9bn (£3.8bn) settlement with the US Department of Justice. It centred on the way than bank sold mortgage-backed securities, or loans packaged up into bonds and sold to investors, between 2005 and 2008.
That settlement was announced on Tuesday by DoJ, which published documents detailing the settlement. These include emails from the bank's employees. In one, a banker discusses "total f***ing garbage" loans with "fraud [that] was so rampant . . . [and] all random".
RBS chief executive Ross McEwan said: ""There is no place for the sort of unacceptable behaviour alleged by the DoJ at the bank we are building today."
The DoJ said it was the biggest settlement for "financial crisis-era misconduct" for a single institution: "These are allegations only, which RBS disputes and does not admit, and there has been no trial or adjudication or judicial finding of any issue of fact or law."
RBS was bailed out by the government at the height of the financial crisis and taxpayers still own about 62% of its shares.