The 26-year-old with a £100m sportswear brand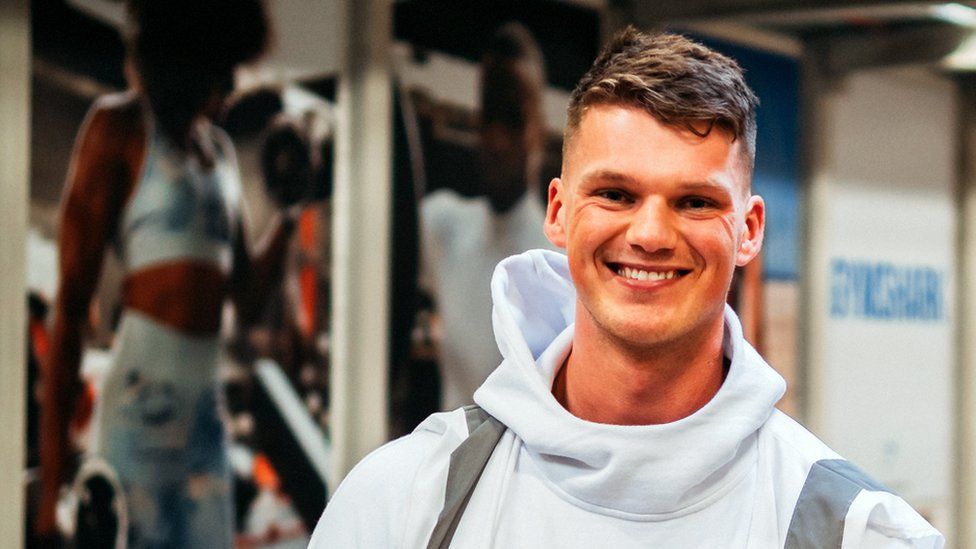 The BBC's weekly The Boss series profiles a different business leader from around the world. This week we speak to Ben Francis, founder of UK sportswear brand Gymshark.
It is hard to know how a then 19-year-old Ben Francis had the time or the energy to get Gymshark up and running.
While many young entrepreneurs have to juggle running their start-up with holding down a nine to five job, back in 2012 Ben was a full-time student by day, and a pizza delivery man by night.
"I'd wake up and go to Aston University [in Birmingham], then finish uni early afternoon, and work at Pizza Hut from 5pm till 10pm," he says.
"I could answer emails [about Gymshark] in between deliveries. Then I'd go home and sort out the website, and design new products."
After two exhausting years of this - with annual revenues of his nascent business hitting an impressive £250,000 - Ben quit both university and the world of pizzas to focus on his company.
Fast-forward to today, and Gymshark expects turnover this year to reach £100m.
Before Ben set up the business in 2012 it is fair to say that the entrepreneurial fire was already burning in his belly.
As a young teenager he set up a website that sold car licence plates. A keen gym-goer, he then built and launched two iPhone fitness tracking apps, one of which earned him around £8,000.
The idea for Gymshark followed; an online retail business aimed at fitness fanatics that originally sold health supplements.
"I was going to the gym and basically was interested in, and wanted to be involved in, the fitness industry," he says. "I wanted to combine that with making a transactional website."
When Ben found that the profit margins from selling the supplements were too low, he dived into another area - clothing.
"I remember looking around, and I couldn't find any clothing I wanted to wear," he says. "So I said, 'let's make it ourselves.'"
Enlisting the help of his brother, and a group of friends, Ben bought a sewing machine and screen printer, and started to make gym vests and t-shirts in his parents' garage.
"My nan made curtains, so she taught me how to sew," he says. "I remember thinking we had 10 orders to do, and to make 12-15 products it would take most of the day. But it was so much fun learning."
Now 26, Ben admits that after Gymshark first moved into clothing there was no immediate grand plan regarding growing the business. "It was more a case of 'I really want to wear this,' so I made it," he says.
And so the company started to make body builder vests that fitted slim teenagers, because most on the market were designed for older men who had already built up their muscle bulk.
Ben adds that he would also guess on how much to price items. "It was literally a case of what would we want to pay for something," he says.
"There was no considered approach. We were like, 'we would pay £20.'"
Six years later, Gymshark now has more than 1.2 million customers, and 215 employees at its Solihull headquarters in the West Midlands.
So how has the firm been able to grow so quickly? In short, it has been a very savvy user of social media.
More specifically Gymshark decided it would send free clothing to key "influencers", prominent body-builders and other fitness fanatics - such as Lex Griffin and Nikki Blackketter.
The hope was that such stars would talk positively about the products to their followers on YouTube and Instagram.
The idea worked better than Gymshark could have dreamed, and sales soon skyrocketed.
At the same time it worked hard to ensure its own social media accounts were as interesting and visual as possible. Today it has 2.4 million followers on Instagram and 1.5 million on Facebook.
More The Boss features, which every week profile a different business leader from around the world:
More recently the firm has held events around the world, inviting fans of the brand to meet some of its influencers. Hundreds of people typically attend.
Another key factor in the continuing success of Gymshark is bringing in a more experienced pair of hands to help Ben run the business. Sportswear industry veteran Steve Hewitt joined as managing director in 2015, before being given the chief executive title in April last year.
Ben remains the majority owner, with Mr Hewitt and chief strategic officer Paul Richardson also having substantial stakes. Another shareholder is Ben's friend Lewis Morgan who helped to launch Gymshark, but left the business a few years ago.
Emily Sutherland, a features writer at trade magazine Drapers, says Gymshark's use of social media influencers has been key to its success.
"The influencers give shoppers a reason to buy into Gymshark over other brands, because they feel a personal connection," she says.
Ms Sutherland adds that because Gymshark is an online-only and direct-to-consumer brand, it is "able to remain nimble, react quickly to market changes, and isn't weighed down by expensive store costs".
As for the future, the plan is to expand Gymshark's overseas sales. Already 40% of its sales come from the US, and it aims to have 25 international country-specific online stores by 2020, up from 11 at present.
The company may also open its first bricks-and-mortar store.
"I don't go shopping very often, but I'm thinking of the best way to do a permanent location somewhere," says Ben. "I'm not sure, we'd need a lot of space. I want to do a cool destination."
Related Internet Links
The BBC is not responsible for the content of external sites.