Ex-UBS trader avoids deportation - for now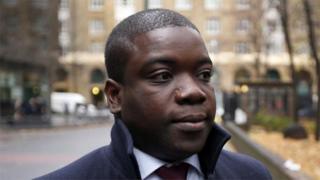 A former UBS trader who was jailed after being convicted of a huge fraud has avoided being deported from the UK.
Kweku Adoboli, 38, has been denied permission for a judicial review of deportation proceedings against him.
He had expected to be detained when he attended a monthly check-in with police in West Lothian on Monday.
Mr Adoboli was born in Ghana but has lived in the UK since he was 12. Since leaving jail he has lived in Livingston, where he has a partner.
He expected Border Force officers would be at the police station on Monday to detain him. But after an unusual delay in the signing-in process at the police station, he was allowed to go.
What could be a temporary reprieve came after several Scottish politicians intervened.
His MP, Hannah Bardell, has followed up her request to the Home Office not to detain him, with a letter to the prime minister, asking for indefinite leave to remain to be granted.
Mr Adoboli was convicted in 2012 for being part of a £1.6bn bank fraud for his activities within UBS while working on its trading floor at the height of the financial crash. He served four years of a seven-year sentence.
Home Office lawyers have been seeking to apply a law that requires foreign nationals with convictions of more than four years to be deported to their country of birth.
Mr Adoboli has been challenging and appealing that, and wanted to take a judicial review to the Supreme Court.
However, an unusual series of legal moves last week led to a judge's decision that he should not be allowed to make further applications while in the UK.
His legal team were convinced that the moves were to prepare the ground for detention at his regular police check on Monday.
Several Scottish politicians have become involved in supporting him against the Home Office moves, arguing that he poses no threat to the country and is making a positive contribution to help others understand the systemic risk still posed by the financial sector.
'Contribution to society'
Ms Bardell has taken the lead, though she is currently on holiday.
In a letter to Theresa May, she wrote that Mr Adoboli has "served his custodial sentence and is making a highly positive and unique contribution to society, including academic work and community outreach, a contribution that your own government has benefited from".
There has been support also from the Scottish government and from Andy Wightman, a Scottish Greens MSP for Lothian.
The former USB trader told BBC Scotland he has been invited to lecture senior financial and military figures, including a visit next week to talk about decision-making at the SAS headquarters.
He is working through the Forward Institute, which seeks to promote leadership skills for a small selected group each year.
"I'm not a threat to the country - I'm contributing to it. My friends and family are here. I've made my home in Livingston," Mr Adoboli said.
"The work we are doing is about fundamental cultural change. This is hard work. I can't do it on my own, but we need every voice that can be contributed to it. I'm in a position to speak freely, whereas others are not."
A Home Office spokesperson said: "All foreign nationals who are given a custodial sentence will be considered for removal. Foreign nationals who abuse our hospitality by committing crimes in the UK should be in no doubt of our determination to deport them and we have removed more than 42,800 foreign offenders since 2010."