House of Fraser attacks 'greedy' landlords
By Chris Johnston
Business reporter, BBC News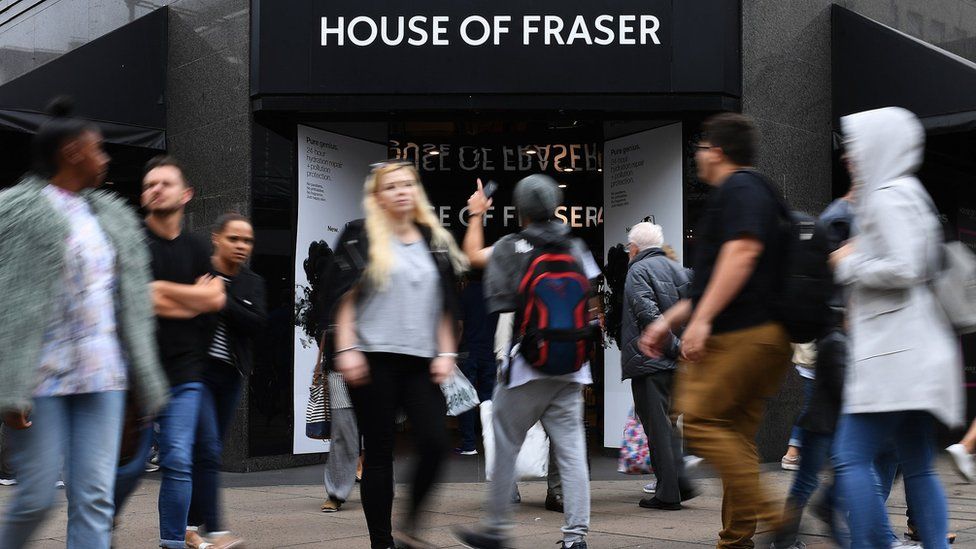 House of Fraser has criticised "greedy landlords" that are resisting new owner Mike Ashley's attempts to cut rents on the store chain's 59 outlets.
Earlier this month the Sports Direct owner bought the retailer for £90m after it collapsed into administration.
It has been seeking to cut rents in an attempt to prevent stores from closing.
The British Property Federation criticised Sports Direct, saying one party cannot "cry 'unfair' in the media when it doesn't get what it wants".
About seven House of Fraser stores have been saved so far, including Plymouth, Darlington and Middlesbrough, as well as the flagship store on London's Oxford Street.
Mr Ashley's firm warned landlords that "time is running out" to keep stores open.
"Some landlords are being very collaborative in order to give us a chance at turning the business around, giving House of Fraser a lifeline and saving hundreds of jobs," a spokesman said.
"However, some greedy landlords would rather see the stores close than help save the jobs of hundreds of people.
"We will continue to try and convince these landlords but ultimately time is running out. Some closures will be announced."
However, Melanie Leech, the chief executive of the British Property Federation, said each party in the negotiations had its own interests.
"Many property owners are investing in and managing property on behalf of pensioners' savings, and depend on occupiers being able to pay rent. The long-term health of our High Streets also depends on this," she said.
"There will be a range of factors to consider on a store-by-store basis - but what property owners won't be doing is simply leaving stores empty for the sake of it; that would be in no one's interests."
"We will do our best to keep as many stores open as possible," he said.
Other House of Fraser stores the new owner says will remain open are Telford, Aylesbury and Carlisle.
Sports Direct needs to cut costs if the loss-making department store chain is to remain viable and continue trading, but some landlords are opposing rent reductions of the scale it is demanding.
BBC News understands some have been asked to sign deals for rent equivalent to 5% of a store's turnover, while about 28 stores would not get any rent at all but have their business rates paid for.
Most landlords will end up taking a financial hit, but some think Sports Direct's proposals will be better than an earlier restructuring deal that would have resulted in 31 stores closing.
Offering rates-only deals, or "meanwhile leases", to landlords is an unprecedented move for such a big, established retailer.
One retail property expert told the BBC that such an offer would be quite attractive for some landlords: "They continue to trade, without the burden of business rates which gives them at least a year to come up with a plan.
"If the stores trade successfully, then there's always the possibility of a better deal with Ashley down the road."