The basketball boss who made billions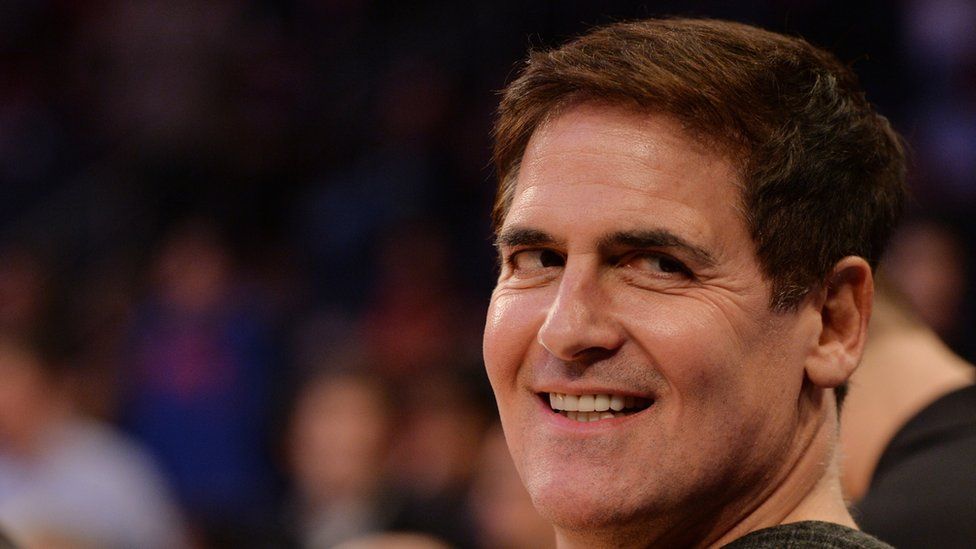 The BBC's weekly The Boss series profiles a different business leader from around the world. This week we speak to US entrepreneur and basketball team owner Mark Cuban.
Self-made billionaire Mark Cuban says he always dreamed of getting rich.
"My priority was to be wealthy," says the 60-year-old owner of the Dallas Mavericks.
"If I could get rich I could retire, and it would be easier to find the right person and start a family."
Born and raised in a working class family in Pittsburgh, Pennsylvania, Mr Cuban achieved his financial dream at the age of 32.
That was back in 1990, when he sold his then computer business MicroSolutions for $6m (£4.6m). Sticking to his life plan, he promptly retired, and travelled the world.
However, Mr Cuban ultimately missed working life, and in 1995 he co-founded audio and video streaming website Broadcast.com. Four years later this was sold to Yahoo for $5.7bn, making Mr Cuban a billionaire at the age of 41.
Today his main focus is his sometimes controversial ownership of the Mavericks. He also has numerous other business commitments and investments, and a high profile role as one of the investors on the Shark Tank TV show, the US version of the UK's Dragons' Den.
Now worth an estimated $3.9bn, he puts his success in life and business down to both working hard - and working strategically.
"Everyone has the will to win," he says. "[But] only those with the will to prepare, do win."
Mr Cuban's earliest entrepreneurial pursuit was selling rubbish bags door-to-door at the tender age of 12, so he could raise the funds to buy an expensive pair of basketball shoes.
More The Boss features, which every week profile a different business leader from around the world:
Then at university in Pittsburgh and Bloomington, Indiana, he ran a bar, held dancing lessons and promoted parties. He says the jobs taught him that "happy customers lead to great results", and that "running a business is a lot of work, but can be very rewarding".
After graduating with a degree in management, Mr Cuban moved to Dallas, Texas, where he got a job as a salesman for a software firm.
The impetus for starting his own business in the sector came in 1983, when he was sacked on the spot for securing a five-figure deal without authorisation.
A few months later he set up MicroSolutions, which he grew for the next seven years, before its sale. Broadcast.com then followed.
After the sale of Broadcast.com in 1999, Mr Cuban is reported to have immediately gone out and bought a private jet for $40m. A year later he purchased a majority stake in the Mavericks for $280m.
Meanwhile, Yahoo made a hash of Broadcast.com. The website was quickly ignored, and Broadcast.com was quietly discontinued after 2002.
With Mr Cuban at the helm the Mavericks won their first National Basketball Association (NBA) championship in 2011. Today the team have annual revenues of $233m, and Forbes magazine values the franchise at $1.9bn, the ninth richest in the 30-team NBA.
Mr Cuban has also introduced some extra razzmatazz to the Mavericks in the shape of a male hip hop dance troupe called Mavs ManiAACs that since 2002 has been entertaining fans at home games.
"Prior to me buying the Mavs, NBA teams thought that they were in the basketball business," he says. "I knew we were in the experience business.
"Fans come to have fun and unique experiences they couldn't get anywhere else. The Mavs ManiACCs upset a lot of traditionalists."
Sports industry expert Richard Barker says that Mr Cuban is a successful risk taker in business.
Mr Barker, who is executive vice president of sports PR agency M&C Saatchi Sport & Entertainment, says that buying the Mavericks in 2000, then an "ailing" team, was a "big risk".
"Cuban saw what many now know to be true - the commercial power of a major league as an entertainment force, not just something for the core fans," he says.
"In 2018 the NBA is the most relevant [US sport] to youth culture, and it is the league that others are chasing. Cuban is a big part of that evolution."
Mr Cuban's ownership is not without controversy though. If the dance troupe wasn't bad enough for some, he has been fined numerous times for criticising officials.
On one occasion back in 2001 he said that the then NBA's head of refereeing was not fit to even be a store manager at US ice cream chain Dairy Queen. The statement prompted an aggrieved Dairy Queen to invite Mr Cuban to go and work in one of its branches for the day, which he did.
In addition to the basketball team Mr Cuban's other business interests and investments include being co-owner of media group 2929 Entertainment, and chairman of US cable and satellite TV firm AXS. He also writes business how-to books.
Looking back on his earlier self, Mr Cuban says that his inspiration was Ted Turner, the founder of news TV channel CNN.
"Turner did it his way, and didn't care what anyone said about him," he says. "He worked hard, and played hard. Traits I admire."
A married father of three, Mr Cuban's advice to young people who want to start their own company is to focus on something you are interested in.
"The key to success is finding something you like to do, and becoming really good at it," he says.
And in addition to solid preparation work, he says that a good entrepreneur has to have perseverance.
"It doesn't matter how many times you fail, you only have to be right once."
Related Internet Links
The BBC is not responsible for the content of external sites.