How the financial crash provided some a new life and new hope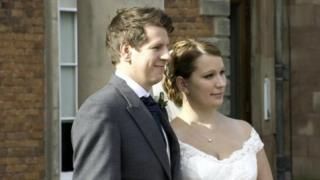 How would you cope if an international financial crisis turned your life upside down? Could you handle a drop in income or losing your home? Or would you rise to the challenge and change your life for the better?
Life was never the same for millions of people after the collapse of US investment bank Lehman Brothers in September 2008.
Ten years on, we asked two women in the UK how their lives had changed. This is the story of two Sallys.
Sally from Birmingham lost her job as an events manager and had to do a combination of bar and temporary work in order to survive.
Sally from Essex had to make people redundant at her company and ended up moving back home with her mother as she turned 45.
'My confidence was shattered'
Sally Hunter, from Birmingham, had just started a new job as an events manager for a law firm at the time the crash happened.
"Within two months, they were making redundancies as their major business was construction," she told the BBC.
Sally survived two rounds of job cuts but in January 2010 was made redundant.
"I was devastated," she said. "I had barely built up any long service, so my payment was minimal.
"My confidence was also shattered - although I understood the market conditions, I couldn't help but feel like it was my fault."
Furthermore, Sally had bought a house in September 2007, just before the housing market began to crash - and her house immediately lost 25% of its value.
To make matters worse, Sally was on a fixed-rate mortgage, which in 2007 had seemed like the safest option.
"If I'd gone on a tracker, my payments would have dropped by £200 a month," she said.
'I've never saved so much'
Scared about what would happen to her financially, Sally found a temporary job as well as a bar job, working up to 70 hours a week to try to cover her bills.
"I ate a lot of rice during this time and didn't spend money on anything that wasn't food or bills," she said. "Ironically, I've never saved so much."
Within three months, however, Sally had found a permanent job, for which she considered herself "incredibly lucky".
It was again as an events manager - but this time she was earning much more money.
"Also, deciding that life couldn't get much worse, I joined an online dating service for a weekend, and ended up meeting my husband, Mark, who is a risk and data manager."
The couple have been married for six years and have a three-year-old son, Barnaby.
But Sally is mindful that life could have turned out very differently for her.
"I know others who really had a rough time for a number of years, through no fault of their own," she said.
'I moved back home with my mum at 45'
Sally Stracey from Witham, Essex, said she had to make four people redundant shortly after the global crash.
"It was horrendously stressful," she said. "I was working as a drawing office manager in the construction industry.
"The subcontractor that I worked for got into severe difficulty. It meant all the staff below me were made redundant.
"Our company went under in 2009. I'd sensed that something was wrong and left just before that happened."
But, with no job, Sally, at the age of 45, had to move 200 miles south, rent out her home in rural Derbyshire and move in with her mother, in Essex.
It had been difficult at first, she said, until they had created their own spaces in the home.
And then, in 2010, her mother was diagnosed with lung cancer and Sally was glad to be able to be there to look after her while she was ill. Sally's mother died the same year.
'A blessing in disguise'
Eventually, Sally found another job, again in the construction industry.
And, 10 years later, she said: "I am in a far, far better job, I have a new house in Essex and a great lifestyle."
Sally is also on a much better salary.
And, all in all, she said, for her, the financial crash had been a "blessing in disguise".
By Bernadette McCague and Victoria Park, UGC and social news