The battle for better disability rehab in North Africa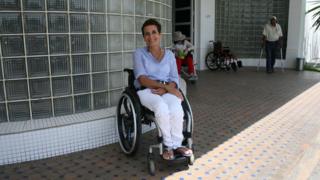 Amina Slaoui was on holiday with her husband when she fell off a bike and ended up in a wheelchair.
It was the accident that changed not only her life, but also those of thousands of other disabled people in Morocco and beyond.
Amina came from a wealthy family so could afford the treatment she needed, but she realised that most of her fellow Moroccans could not.
So she decided to set up a disability rehabilitation centre. Seventeen years later, the centre she created with a few colleagues has helped 26,000 people receive treatment, equipment and support.
"At the beginning everybody would laugh, saying you're crazy, you're a bunch of crippled people, you have no money, and you think you're going to build a rehabilitation centre? And we said yes," says Amina.
Self-financing
We are talking and moving down the corridor at the Noor rehabilitation centre in Casablanca, the flagship centre of her organisation, Group AMH.
On both sides of the corridor are spacious rooms where patients are lifting weights, loud music is blaring out.
"People who have insurance or have money pay for people who don't," she says, explaining the innovative way the organisation funds treatment for people who could not normally afford it.
"We have one free patient for five who pay, and this model allowed us to be independent after four or five years, and generate profits which we reinvest to keep helping people."
One of those people is Fatiha Ait Mohamed. She was paralysed after falling while cleaning the steps of her house.
The group covered 80% of the costs of her rehab and bought her a specially adapted motorbike.
She rides it every day to buy cosmetic supplies which she then sells in a small street stand.
"When I was in bed and my mum was doing everything for me, I was feeling like I was living in a different world, I couldn't feel my body. I wasn't feeling that I was in this life."
"I love riding my motorbike, I now feel free." she says.
Beyond rehab
Every day, around 120 disabled people arrive at Amina's offices seeking help for everything from rehabilitation to prosthetics and psychological support.
"What's really innovative about Groupe AMH is that they try to cover everything, not just rehabilitation," says Ahmed Ait Brahim, director of social integration at the Moroccan Ministry of Solidarity, Women, Family and Social Development.
"They want to make sure that disabled people are reintegrated into society; that's really unique across Africa."
---
The BBC's Innovators series reveals innovative solutions to major challenges across South Asia and Africa
Learn more about BBC Innovators.
---
Amina's group now also has a school to integrate disabled children in more inclusive settings - crucial in a country where less than half of disabled children go to school.
Khadija, eight, has cerebral palsy and attends the school. She lives with her parents in a tiny room her family rents near the clinic. They moved more than a year ago from Marrakesh so she could get the help she needed.
"When I was there I didn't have friends. Only when I came here I started to have friends, When I began getting better, I started to feel something inside, something that made me very happy," she says.
Amina's group covers most of Khadija's rehabilitation costs. Her parents explain how she used to be very angry, and spent most of the time lying down on her back in bed. But now she can draw, play with other children and even stands up on her own.
New challenges
Back at the clinic, we spot Amina in a meeting with senior managers of the organisation. Despite their success, the group's innovative financial model is at risk and they are discussing future strategies.
The challenge is that private clinics are planning to open competing luxury rehab pay facilities for well-off disabled patients. They are the ones currently funding treatment and support those who cannot pay, like Fatiha and Khadija.
But that is not the only problem.
"We spend around a tenth of our budget providing financial support for patients who cannot pay. But purchasing power keeps decreasing and we don't get any government support, so we need to become more and more creative on how to generate funds," Amina says.
Recently the clinic opened a new wing with 20 individual rooms for wealthy patients.
It is also attracting more and more wealthy patients from across Africa where rehabilitation options are very limited or do not exist at all.
They come mainly from Senegal, the Democratic Republic of the Congo and Guinea, attracted by the proximity and the fact that treatment is 10 times cheaper than in France or elsewhere in Europe.
"Time goes fast, it's now been 25 years. The team is here and engaged, but for how long?" says Amina.
"Our goal is to ensure that when we go, what we've done doesn't disappear. We're going to open another hospital near Casablanca and if it works, we'll open many other rehab centres.
"We want to be the leader of rehabilitation in Africa."
This BBC series was produced with funding from Bill & Melinda Gates Foundation