Reality Check: Where does the plastic bag charge go?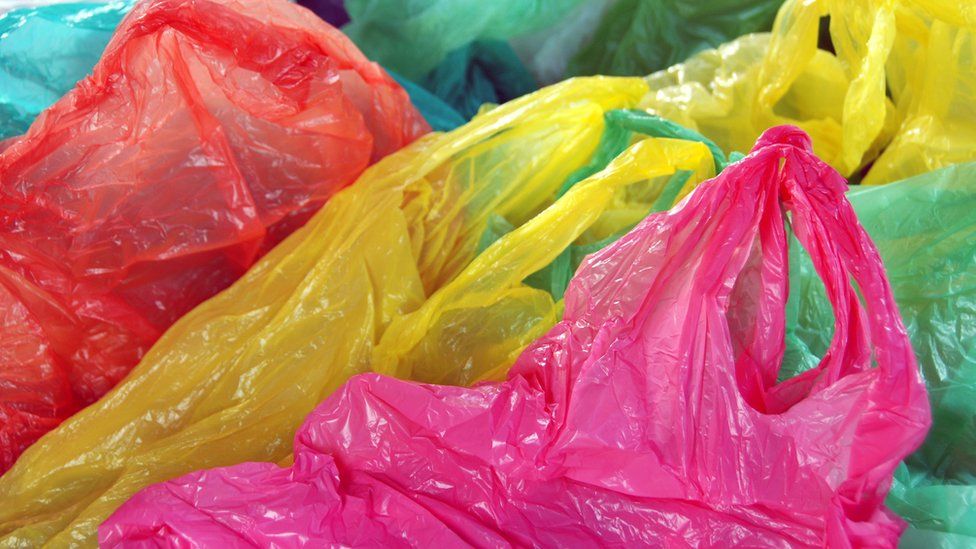 Prime Minister Theresa May has raised the possibility of increasing the plastic bag charge in England from 5p to 10p.
Large retailers in England have been legally required to charge 5p for all single-use plastic carrier bags since October 2015. Smaller businesses can also choose to apply the charge.
Similar 5p schemes operate in Scotland, Wales and Northern Ireland.
Since the charge was brought in, plastic bag usage has plummeted.
In 2014, more than 7.6 billion plastic bags were given to customers by major supermarkets in England. That has since fallen by more than 80%.
According to the government, it "expects" retailers to donate proceeds from plastic bag sales to good causes - but it's not compulsory.
Before donating, retailers are allowed to deduct "reasonable costs" to accommodate the plastic bag charge - such as introducing a new till system or retraining staff.
It's then up to the individual retailer to decide which causes to support.
That's lower than the previous year - when £66.5m was donated.
The drop is is not surprising given that fewer plastic bags were sold.
In fact, some retailers didn't respond to the survey because they had stopped selling plastic bags altogether.
While the vast majority of retailers chose to donate their plastic bag revenue - in line with government expectations - some chose to keep the money instead.
Fourteen of the 249 retailers held on to £1,000 or more of their plastic bag sales. That's according to a spreadsheet published by the Department for Environment for Food and Rural Affairs (Defra).
Poundworld - which has since gone into administration - retained the most plastic bag revenue, at just over £454,000. A note in the spreadsheet says it was still "finalising its charity strategy".
Some retailers gave specific reasons for not donating. For example, one organisation pointed out it was a charity - and so it felt it was appropriate to keep the money.
Another said it would make its donation in the "near future".
Update: This piece has been amended to reflect Defra's revision of their figures.