Viagogo taken to High Court by competition regulator
By Chris Johnston
Business reporter, BBC News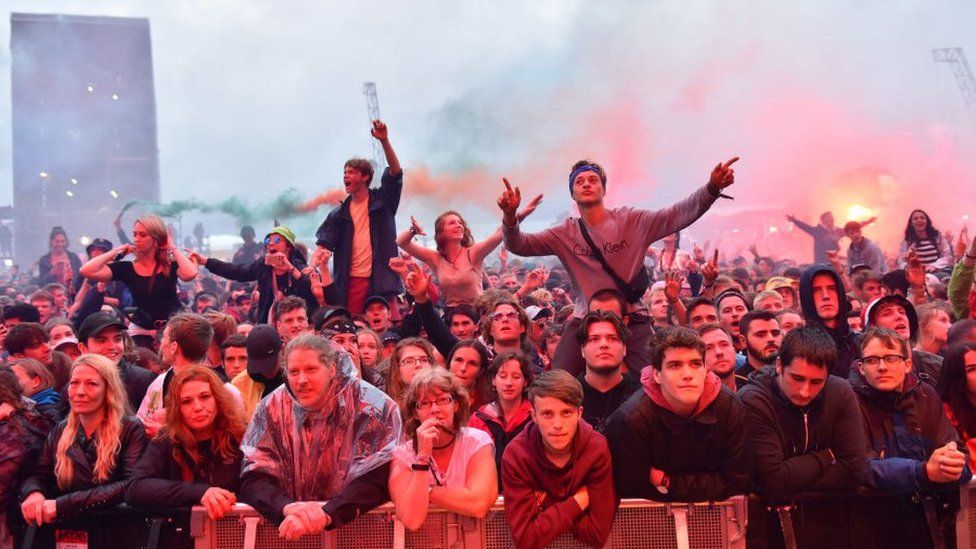 Ticket reseller Viagogo is being taken to court by the competition watchdog over concerns it is breaking consumer protection law.
The Competition and Markets Authority took action against the big four secondary ticket sites last November.
StubHub, Get Me In and Seatwave promised to change their business model but Viagogo has failed to make changes required by the CMA.
That failure has resulted in the High Court legal action announced on Friday.
Andrea Coscelli, CMA chief executive, said consumers who look for tickets on resellers must be told what seat they will get and whether they risk being denied entry to a venue.
"This applies to Viagogo as much as it does to any other secondary ticketing website. Unfortunately, while other businesses have agreed to overhaul their sites to ensure they respect the law, Viagogo has not," he said.
"We will now be pursuing action through the courts to ensure that they comply with the law."
The CMA is also seeking an interim enforcement order from the court that would put a stop to some of Viagogo's practices until a full trial takes place.
Sharon Hodgson, the MP who chairs the all-party parliamentary group on ticket abuse, said the CMA's legal action against Viagogo was long overdue.
"For too long fans have been exposed to the risk of ending up with a ticket that did not get them into an event when buying through Viagogo.
"Perhaps Viagogo will now realise that consumer protection legislation passed by Parliament is not a minor inconvenience to be ignored and that they can be held accountable through the courts."
Adam Webb, campaign manager of the FanFair Alliance, said it welcomed the move to tackle Viagogo: "Hopefully it spells the endgame to this site's misleading and abhorrent practices."
The Alliance said Viagogo could be legally prevented from reselling tickets in the UK because it had an office in Fenchurch Street, in the City of London.
The CMA's year-long investigation found some ticket resellers could be breaking the law by failing to tell consumers about restrictions on the tickets they bought.
Many in the music industry have criticised resellers. In April the manager of the Arctic Monkeys, Ian McAndrew, called on the government to shut down Viagogo after tickets for the band's upcoming UK tour appeared on the site for as much as £2,200.
Viagogo is run by American Eric Baker, who founded StubHub with university classmate Jeff Fluhr. They sold the company to eBay in 2007 for $304m.
Mr Baker then moved to London to set up Viagogo, which is owned by his Delaware-based venture called Pugnacious Endeavors.
Buyers will then be allowed to put unwanted tickets up for sale directly on Ticketmaster's site. The firm has vowed to be transparent about the difference between "new" and resold tickets.
Viagogo did not respond to a request for comment.