India economy accelerates as rupee declines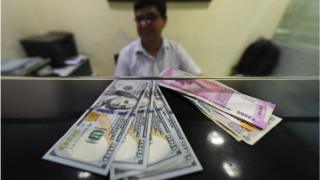 India's economy has seen its fastest quarterly growth in two years, even as its rupee currency continues to fall.
Gross domestic product expanded by 8.2% in the three months to June, compared with a 5.5% rise in the same quarter last year, reinforcing India as one of the fastest growing economies.
In the January-March period this year, the economy grew by 7.7%.
The $2.6tn (£2tn) economy was boosted by a strong performance in consumer spending and manufacturing.
However, when it came to currency, the rupee saw its worst month against the dollar in three years.
The currency fell by 3.6% in August - its steepest decline since August 2015 and its fifth straight month of falls.
As with other currencies in emerging economies, the rupee fell on concerns that the US will soon impose additional trade tariffs on Chinese goods.
Since the start of 2018, the rupee has lost 10% in value as foreign investors sold the currency over concerns about the Indian economy's trade deficit, as well as inflation on high oil and commodity prices.
Although the GDP growth is welcome, some analysts doubt the economy will accelerate further.
Shashank Mendiratta, an India economist at ANZ Bank, said: "The numbers are pretty solid and mostly driven by public investment and higher consumption, especially, in the rural-end with this being a pre-election year.
"This is probably the best GDP trend we have seen in the first half helped by a favourable base. Going ahead, I expect the growth rate to be moderate as private investment is unlikely to grow at a faster rate due to stressed assets."
Credit ratings agency Moody's has warned about rising pressure of higher oil prices and interest rates on government finances and India's current account.
The Reserve Bank of India has raised its benchmark rate by a total of 50 basis points at its past two meetings, to 6.5%, to tame inflation that has remained above its medium-term target of 4% for the last nine months.
The RBI's next policy is due on 5 October.