Footasylum shares plunge on profit warning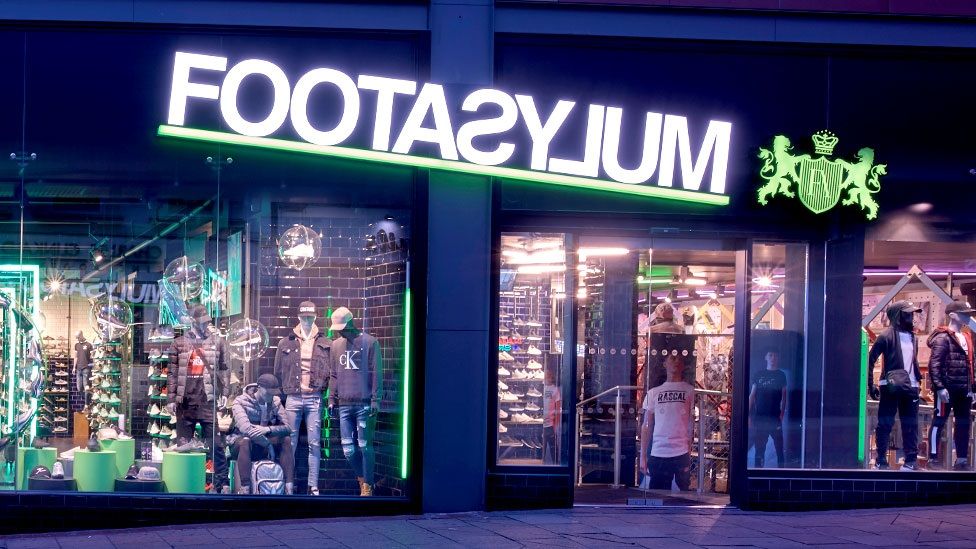 Shares in Footasylum plunged on Monday after the "athleisure" retailer warned on profits following difficult trading in July and August.
Despite reporting a 18.5% rise in sales to £98.6m for the six months to 25 August, Footasylum said sales since then had been "more challenging".
There was "no sign of a recovery" on the high street, the retailer said.
As a result, adjusted annual profits will be "significantly lower" than previous guidance".
Footasylum expected to post less than half the £12.5m it made in the last financial year, according to an unscheduled trading update.
Barry Bown, executive chairman, said: "These are undoubtedly challenging times in the retail industry and, in common with many other businesses, Footasylum's trading has continued to be impacted by weak consumer sentiment."
It also blamed "some unforeseen delays" in opening new stores and a hit to margins from more clearance activity.
Shares more than halved to 40p, leaving the company valued at about £42m.
It was the second time this year that shares in Footasylum, which listed on the junior AIM market in November, have collapsed.
In June the firm said profits would be hit by higher investment in its stores this year.
Retail analyst Nick Bubb said the second warning confirmed his fears that "investors were sold a pup" when the company floated last year.
Analysts at Liberum said downgrading its outlook for the second time this year was "highly disappointing" and the rest of the current financial year was "likely to be difficult".
"The group should hopefully start to see the benefits from some of the initiatives laid out by the executive chairman, but these take time to deliver," they added.
Footasylum aims to more than double the number of UK stores to about 150 as well as expand outlets in prime locations and boost its online offering.
The woes affecting the high street have resulted in the closure of hundreds of shops and restaurants run by a handful of major chains this year.