Are 'swipe left' dating apps bad for our mental health?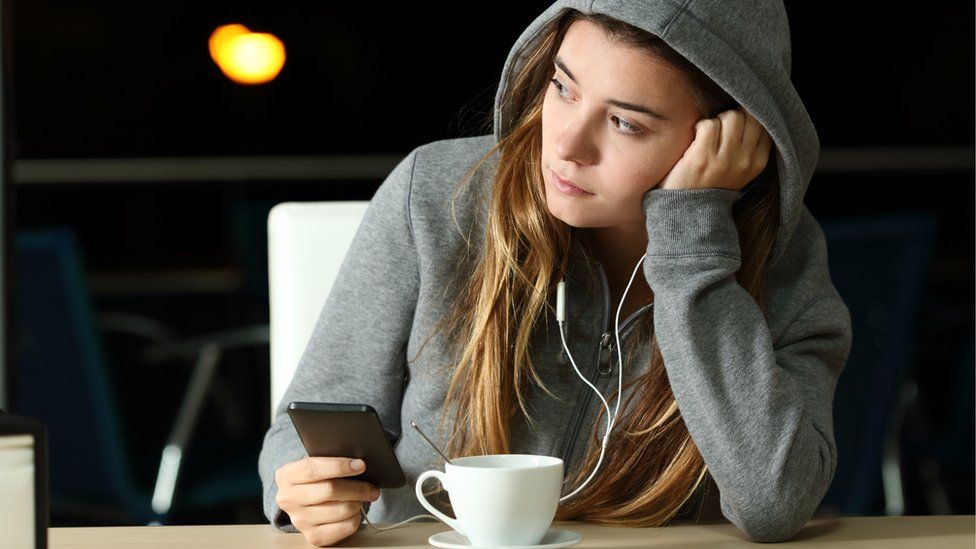 Dating apps have taken the world by storm, but has the trend for swiping right or left to like or reject potential matches contributed to many people's unhappiness and low self-esteem?
Following the end of her last relationship, Kirsty Finlayson, 28, did what many people do - she turned to dating apps to find love.
But the incessant swiping and the stream of small-talk conversations that soon fizzle out left her feeling dejected.
"Dating apps have definitely increased my anxiety," admits Kirsty, a solicitor who lives in London.
"It fuels the idea of a disposable society where people can match, date once, and not give it much effort," she says.
"I find it difficult to distinguish between those who are just using it as a way of passing time on their commute or ego-boosting and those who actually are looking for something serious."
Kirsty says she tried dating apps Bumble, Tinder and happn but is now focusing her energy on Hinge - strapline "thoughtful dating for thoughtful people" - which is known for its slower approach to dating. It eliminates the swiping and encourages users to answer a series of ice-breaker style questions on their profiles.
She spends about 30 minutes a day on the app, but admits it's "time that I could spend doing something I enjoy which is better for my mental health".
Despite the huge popularity of dating apps - and the millions of success stories worldwide - many users report that some apps make them feel low and experience self doubt.
Thirty-one-year-old Daniel from Kent has been using Scruff, a dating app for gay men, since becoming single four years ago.
He believes the apps can lead to "body confidence problems because you are continually aware of your competition".
"The biggest problem for me, which gets me down the most, is that you're only connected because of what you see in a picture," he says.
"I've found this in turn leads to expectations and ideas about the person, which end up being a disappointment. I've turned up on dates and it's clear within minutes I am not what the guy had in mind and vice versa."
Trent Petrie, professor of psychology at the University of North Texas and co-author of the research, says: "With a focus on appearance and social comparisons, individuals can become overly sensitised to how they look and appear to others and ultimately begin to believe that they fall short of what is expected of them in terms of appearance and attractiveness.
"We would expect them to report higher levels of distress, such as sadness and depression, and feel more pressures to be attractive and thin."
Many dating app users, like Niamh Coughlan, 38, start their quests enthusiastically but often app fatigue and bad experiences leave them feeling anxious and unhappy.
"I've come off [dating apps] several times because it's so depressing," says Niamh, an accountant who lives in Dublin. "There's constant swiping and surface chit-chat that leads to nothing."
She has spent about four years in total on dating apps such as Tinder and Bumble, she reckons. After a series of dates and no-shows left her feeling rejected, she deleted them for two years.
"It makes you really question yourself - when someone doesn't turn up, you think, 'oh gosh, am I really that unlikeable?' It did make me feel depressed. There's lots of self doubt."
Abuse was also an issue, says Niamh, with several men sending nasty messages. According to a study by the Pew Research Center, 28% of online daters have been made to feel harassed or uncomfortable by someone on a dating site or app.
Cumulative rejections can be harmful, says behavioural psychologist and dating coach Jo Hemmings.
"It builds up the idea that you're not worthy," she says. "It's de-personalised dating and it's so soulless."
But the casual way we use dating apps can also contribute to these negative feelings, she believes.
"Don't swipe when you just have five minutes spare, do it at home when you feel relaxed," she advises.
"I think we sort of swipe left on auto-pilot. It becomes a conveyor belt of images."
Much of the frustration with online dating seems to be linked with apps that are focused primarily on swiping on a limited number of pictures, says Ms Hemmings.
Sites such as Match.com or eHarmony, which often feature comprehensive questionnaires, detailed biographies and more images, demand more investment in your romantic life, she believes.
"There's more profile information on both sides, which makes the process seem more human and real," she says.
One popular dating app, Bumble, has close to 40 million users worldwide and claims it has led to 15,000 marriages.
Louise Troen, the firm's vice president of international marketing and communications, says: "We've actually not had any [users] directly complain about anxiety, but we are aware of it as a general epidemic.
"We have a global campaign around mental health launching on 1 October to help combat this as a whole," says Ms Troen.
More Technology of Business
"We remind users constantly of their matches, and encourage them through various in-app features to make the first move."
A spokeswoman for happn, which uses geolocation to find people you've crossed paths with, says: "You can really take your time to choose who you want to connect with - there is no swiping left or right, which can be really frustrating."
Tinder, one of the most popular dating apps in the world, did not respond to email requests for an interview.
As for Kirsty Finlayson, she's reassessing her options.
"I'm considering going off apps completely," she says, "or maybe investing in a website where people might be genuinely invested in finding a relationship."
True love takes effort seems to be the message, not just a casual swipe.