The secret life of a female bodyguard
By Tim Bowler
Business reporter, BBC News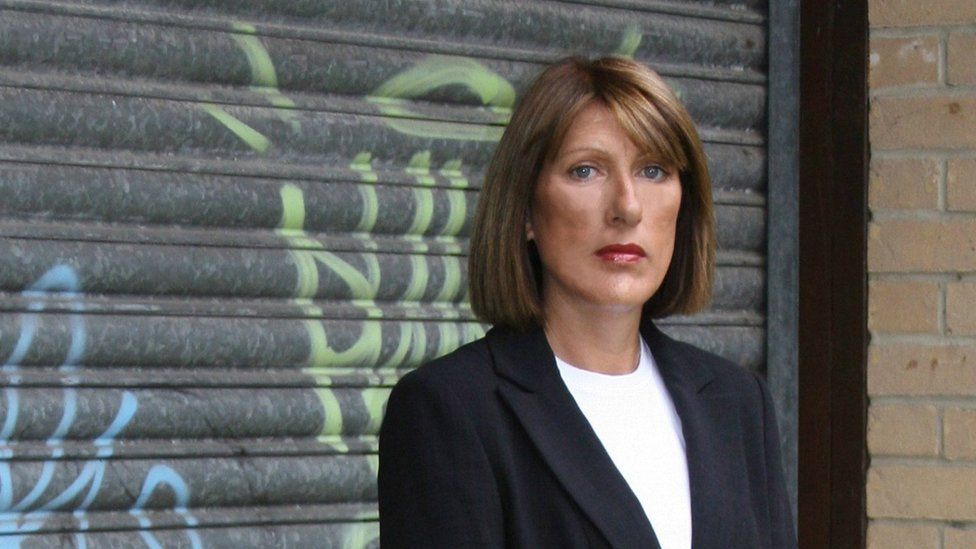 Jacquie Davis, who says she was the first woman to become a bodyguard in the UK, has protected royals and celebrities, rescued hostages and carried out undercover surveillance in her 30 years in the industry. Now her own life has inspired a Netflix thriller starring Noomi Rapace.
"When I came into the industry it was a very he-man attitude," says Jacquie. "They just always wanted me to look after the female principal or the children which was ironic - as most of them were fathers and I wasn't even a mother!"
Having initially joined the police, Jacquie decided to move into private security in 1980 because it would give her more variety. "I wanted to do close protection, I wanted to do surveillance and wanted to do investigations," she says.
Being a bodyguard is particularly high-profile at the moment thanks to Bodyguard, the BBC One drama starring Keeley Hawes as the UK's Home Secretary and Richard Madden as her personal protection officer. Writer Jed Mercurio's script is full of plot twists, guns - and a steamy relationship between the two lead characters.
"Technically it's been fine - it is a good drama," says Jacquie, but while such relationships do occasionally happen "you'll get sacked immediately, no question".
In her career she's travelled the world staying in five- and six-star hotels, but says "after 12 to 16 hours of thinking on your feet, it's not glamorous". In addition to this, there is the toll on a bodyguard's private life. "You might not go home for eight to 10 weeks."
Jacquie also specialises in the more dangerous end of the business - surveillance and rescue. Once she found herself begging on the streets of Iraq, disguised in a burka, as part of a mission to rescue oil workers.
While the job is about preventing danger to the client by planning ahead to avoid potential risks, sometimes real life can be as dramatic as any film or TV script.
"We were being chased by the Pakistan army and wandered into Kashmir," she told BBC World Service's Business Daily programme. "The Kashmiri rebels were firing at the Pakistan army and we got caught in the crossfire."
She and her team had gone undercover in a rescue mission to free a 23-year-old British woman who'd been tricked into going to Pakistan with her new husband.
Instead the woman was imprisoned, but eventually got a message to her mother telling her she was being held hostage and asking for help. Her mother contacted Jacquie.
One night, Jacquie broke into the villa where the woman was being held, handcuffed to an iron bedstead. "She said she was three months pregnant and was being raped, starved and beaten. I told her, 'We will come back and get you out.'"
But suddenly they got a phone call telling them their cover was blown. "Benazir Bhutto, who I'd worked for [previously], had recognised me and thought she knew why I was there - to rescue somebody," says Jacquie.
It meant they had to rethink their plans and act fast.
"We had to storm the villa by paying a taxi driver to ram the gates," she says. They freed the woman and headed for India with the Pakistani army in pursuit. Going as far as they could in a vehicle they then walked across the mountains.
"We were trained and quite fit, but I've got a pregnant woman who's been beaten, starved and has a pair of flip-flops on. To me she was the real hero."
Happily, they managed to dodge the gunfire in Kashmir and were able to bring the woman home.
Jacquie says there have been two big changes over her three decades in the industry.
More women are now signing up, though they still make up only one in 10 bodyguards in the UK.
The business also has a much higher public profile now. "Because of terrorism, security is in people's minds," she says.
This political instability, coupled with an upsurge in the super-rich in the Middle East, China and elsewhere has driven the growth of the sector in recent years.
Figures from the Confederation of European Security Services show there are more than 230,000 people employed in the security services industry in the UK - and 1.9 million in the EU, with 44,000 security companies operating in the sector in Europe alone. Though only a fraction of these will actually be working as bodyguards.
In the UK, the Security Industry Authority (SIA) is the industry regulatory body responsible for personal licensing and private security regulations, and all newcomers need to do a training course first.
Which is fine as far as it goes, says Jacquie, but points out that "you're never going to come off a course and be a bodyguard or close protection operative immediately".
Anybody working in personal protection needs to remember that they are not the client's friend. "You just have to maintain that slight apartness so you can be there when they need it and pull back when they don't," she says.
Jacquie herself is now the subject of an upcoming Netflix film, Close. The action-thriller starring Noomi Rapace was inspired by Jacquie's life as a bodyguard and she was a consultant on the film.
Director Vicky Jewson has said that working with Jacquie "allowed us to bring an authenticity to the action scenes which was very important to me".
Despite the stereotype of burly security men in dark glasses, the essence of being a bodyguard is brains not brawn, Jacquie insists.
Recruits need to learn the softer skills of the business to work with clients. For instance, which knife and fork to use in a Michelin restaurant and how to have afternoon tea at the Ritz while blending into the background.
You also need to keep up with current affairs, she advises. "You have to be able to talk about the Nasdaq, not The Only Way Is Essex."
She's not dismissive of the personal risks that are occasionally involved but says you can't worry going into a job.
"You do the job you're trained to do. When you come out, that's when you go, 'Oh my God, what have I just done?'"