Tesla shares sink after key executives exit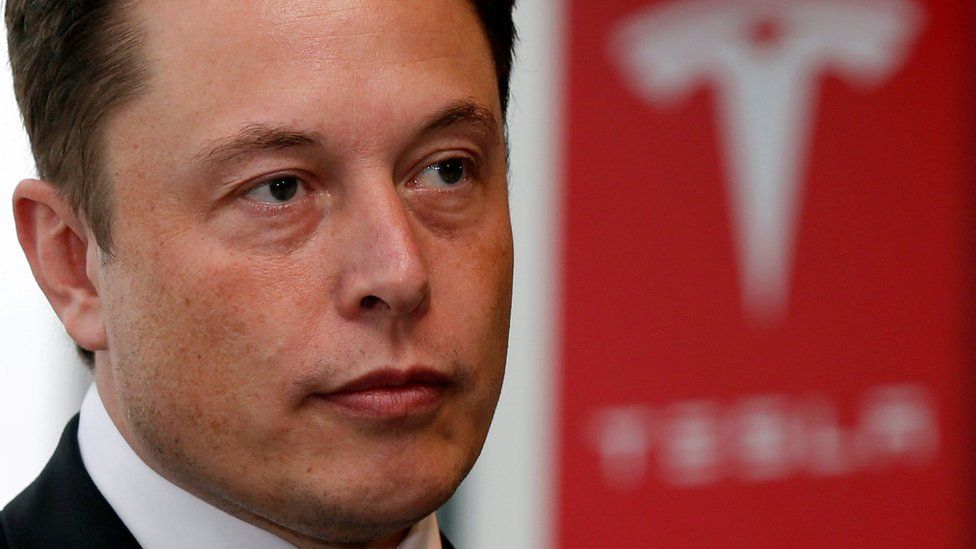 Tesla shares have fallen sharply after two senior executives abruptly left the electric car firm headed by Elon Musk.
The chief accounting officer has left less than a month after joining, while its HR officer is also reported to have resigned a year after joining.
Shares fell over 10% in early US trade.
They eventually ended the day over 6% lower.
Accounting officer Dave Morton's resignation was announced in an official filing with US regulator the Securities and Exchange Commission.
Mr Morton, who joined Tesla on 6 August, resigned on 4 September.
He said his decision to quit was due to the higher-than-expected "level of public attention placed on the company, as well as the pace within the company."
"I want to be clear that I believe strongly in Tesla, its mission, and its future prospects, and I have no disagreements with Tesla's leadership or its financial reporting," he added.
The fallout comes as the firm is under renewed scrutiny due to the erratic behaviour of Mr Musk.
In July he shocked investors by announcing on Twitter that he had funding secured to take his car firm Tesla private. He later said the firm would stay public.
He also tweeted that he might suffer from bipolar disorder but then said "maybe not medically".
In August he told the New York Times that he worked "120-hour weeks" and took sedatives.
His brother Kimbal Musk told the newspaper that the reason Mr Musk "seems to attract drama" is because he is "so transparent, so open, in a way that can come back to bite him".
Since Mr Musk announced his plan to delist Tesla, its share price has dropped by 20%.
Some analysts have urged the firm to appoint another senior leader.
James Albertine, an analyst at Consumer Edge, said it had previously called for a co-chief executive or chief operating officer to help balance the leadership structure.
"We think this is further evidence that the time is now for management and the board to address these issues," he added.