Nike sales defy Kaepernick ad campaign backlash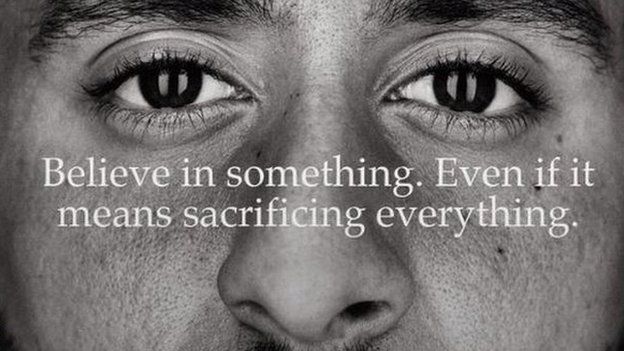 Nike sales appear to have increased in the wake of its controversial advertising campaign, using Colin Kaepernick as the face of the brand.
Online sales grew by 31% in the bank holiday weekend after the ad launched, according to researcher Edison Trends.
The rise will confound critics, who encouraged people to destroy Nike goods in protest at the use of Mr Kaepernick.
In 2016, the football star refused to stand for the US national anthem in protest at police brutality and racism.
Other players followed suit, in a protest which divided the country and sparked Donald Trump's anger.
The US president called players who "disrespect" the US flag "sons of bitches" and called for them to be sacked.
When the company announced the ad campaign featuring the former San Francisco 49ers quarterback, pictures emerged on social media of people burning their Nike products in protest.
On Twitter, they hit out at the deal using the hashtag #JustBurnIt - a play on Nike's slogan "Just Do It" - which trended on Twitter alongside #BoycottNike.
But Edison Trends said speculation that the advertising campaign would lead to a drop in sales had proved unfounded.
"The research confirms that, at least for now, the company is suffering no negative repercussions in sales," the firm said.
Edison said the performance from Sunday 2 September to 4 September - which included the Labor Day bank holiday Monday - was better than the same period last year when online sales grew 17%.
The research firm's figures are based on analysing email receipts.
In announcing the deal, Nike said Kaepernick was "one of the most inspirational athletes of this generation".
But he has not played in the National Football League since last year, and is suing the organisation, arguing team owners deliberately froze him out because of his activism.