China hits back at Trump with tariffs on $60bn of US goods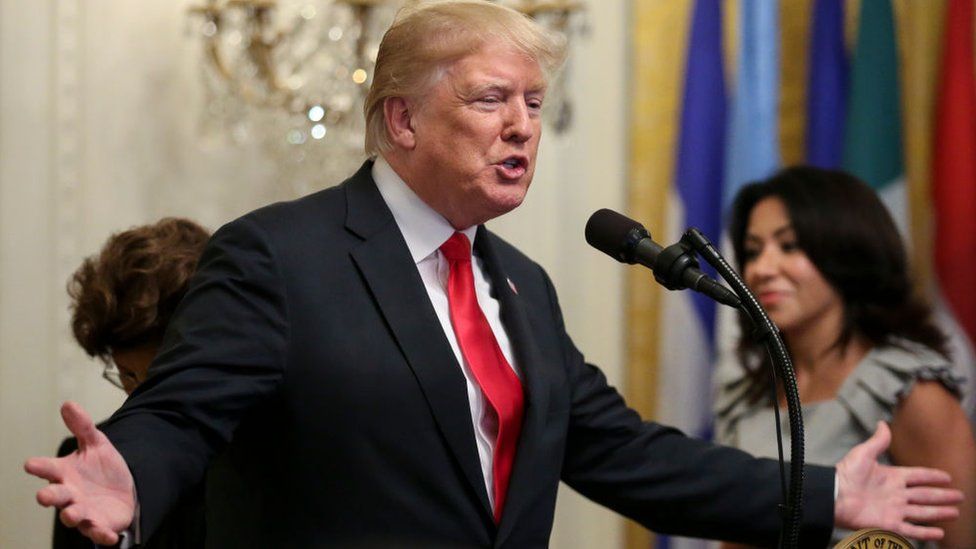 China has hit back at President Donald Trump by announcing new trade tariffs on $60bn of US goods.
It comes after the US slapped duties on $200bn of Chinese imports to take effect from next Monday, escalating its trade war with Beijing.
China will target goods such as liquefied natural gas, produced in states loyal to the US president.
However, in a tweet, Mr Trump warned Beijing against seeking to influence the upcoming US midterm elections.
"There will be great and fast economic retaliation against China if our farmers, ranchers and/or industrial workers are targeted!" he said.
Aircraft, computers and textiles
Earlier he had suggested that this would mean further US tariffs on another $267bn worth of Chinese products. Such a move would mean roughly all of China's exports to the US would be subject to new duties.
The Chinese commerce ministry said it would impose its tariffs from 24 September - the date the US duties come into effect - but at lower rates than previously expected.
It will place an additional 5% in duty on US products including smaller aircraft, computers and textiles, and an extra 10% on goods such as chemicals, meat, wheat and wine.
By contrast, the US duties will apply to almost 6,000 items, making them the biggest round of trade tariffs yet from Washington.
They will affect handbags, rice and textiles, although some items such as smart watches and high chairs have been exempted.
They will start at 10% and increase to 25% from the start of next year unless the two countries agree a deal.
On Monday Mr Trump said the latest round of tariffs was in response to China's "unfair trade practices".
"We have been very clear about the type of changes that need to be made, and we have given China every opportunity to treat us more fairly. But, so far, China has been unwilling to change its practices," he said.
Hasn't the US already imposed tariffs on China?
Yes. In fact, the latest round of US duties marks the third set of tariffs put into motion so far this year.
This latest round means that about half of all Chinese imports to the US are now subject to the new duties.
Unlike the earlier rounds, the list also targets consumer goods such as luggage and furniture.
That means households may start to feel the impact from higher prices.
US companies have already said they are worried about the effect of higher costs on their businesses and warned of the risk of job cuts.
What items have been targeted?
Many everyday items such as suitcases, handbags, toilet paper and wool are included in this latest round of tariffs.
Why are smart watches and high chairs exempt?
The list of Chinese products slated for tariffs originally included more than 6,000 items, but US officials later removed about 300 types of items, including smart watches, bicycle helmets, play pens, high chairs and baby car seats.
The changes come after fierce opposition from US companies including Apple and Dell, which fear the tariffs will increase their costs as many of their products are made in China.
Earlier this month, Apple wrote to US Trade Representative Robert Lighthizer warning that consumers would have to pay more for its products as a result of the proposed tariffs.
At the time, Mr Trump replied with a tweet urging Apple: "Make your products in the United States instead of China."
Why is the US doing this?
The White House says its tariffs are a response to China's "unfair" trade policies.
The import charges will make Chinese-made products more expensive - a move intended to convince US businesses and consumers to buy elsewhere.
But many US businesses are critical of the tariffs with farmers, manufacturers, retailers and other industry groups calling them taxes on American families.
Before its latest round of tariffs, China had previously imposed duties on $50bn of US products in retaliation, targeting key parts of the president's political base, such as farmers.
The aim is to put pressure on businesses in states that supported Donald Trump in the 2016 US presidential election.
The European Union has also used the tactic in its trade skirmishes with the US.
Are the two sides talking?
Not really. Talks between high-level officials ended in May without resolving the matter and efforts to restart discussions have failed.
US and China officials had discussed a new round of talks over the past week, but Mr Trump's latest move is likely to sour relations further.
Andrew Walker, BBC economics correspondent
The immediate objective of President Trump's action against China is to address what he calls the theft of American companies' technology, but it also plays into his wider concern about the US trade deficit.
He sees it as something that needs to be corrected and as the result of bad trade agreements and unfair trading by other countries.
The trouble is that a trade deficit is generally regarded as being the result of savings and investment decisions rather than trade policy. A country that spends more than it earns has a trade deficit.
President Trump's other policies include tax cuts that could increase government borrowing, which is equivalent to cutting national saving and could create a bigger trade deficit.
What Mr Trump hopes is that the tax cuts will boost economic activity so much that they will generate more revenue - and "pay for themselves". That's another area of economic controversy.