McDonald's workers strike over sexual harassment policy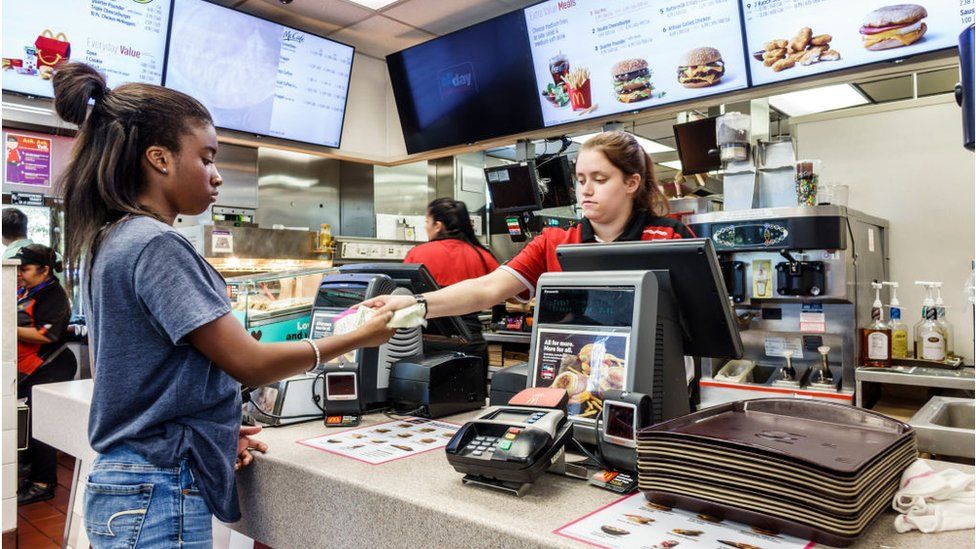 Staff at McDonald's restaurants in 10 US cities walked out on Tuesday over claims the fast food giant is not doing enough to prevent sexual harassment.
The strike comes after 27 women filed complaints against the chain, alleging it failed to enforce company rules against abuse.
The women said they were ignored after reporting incidents including groping, indecent exposure and lewd comments.
McDonald's said there was "no place for harassment" at its restaurants.
The strike was planned to last for one hour around lunch time and targeted multiple restaurants in cities including Chicago, Los Angeles and Miami.
Hundreds of cashiers and cooks walked out, protest organisers said. They were joined by other labour activists.
McDonald's has a company-wide sexual harassment policy but the protestors - who are backed by the Time's Up Legal Defense Fund - want to see improvements.
They say procedures for responding to harassment complaints are inadequate and that all staff should undergo anti-harassment training.
Since 2016, more than two dozen McDonald's workers have filed complaints with the US National Labor Relations Board, alleging their reports of harassment were ignored, mocked or met with retaliation.
The complaints named both McDonald's franchisees and the company itself. However, the firm regards its franchisees as independent business owners.
In one example, Breauna Morrow, a 15-year-old cashier in St Louis, said that she had been "repeatedly harassed" by a co-worker using "graphic, sexual language".
However, when she reported the incident her "supervisors did nothing".
In another incident, an employee said she had reported being groped by a co-worker at a New Orleans outlet.
Instead of taking action, her managers mocked the woman and said "she was probably giving the worker 'sex appeal'".
McDonald's spokeswoman Andrea Abate said: "We have policies, procedures and training in place that are specifically designed to prevent sexual harassment at our company and company-owned restaurants, and we firmly believe that our franchisees share this commitment."
McDonald's also continues to face pressure from labour unions over the wages it pays it staff.
The Fight for $15, a national movement seeking to increase the minimum wage, has been pressurising the chain to increase wages and improve working conditions. The campaign also helped to organise Tuesday's protest.