The Swedish wasteland that's now a sustainability star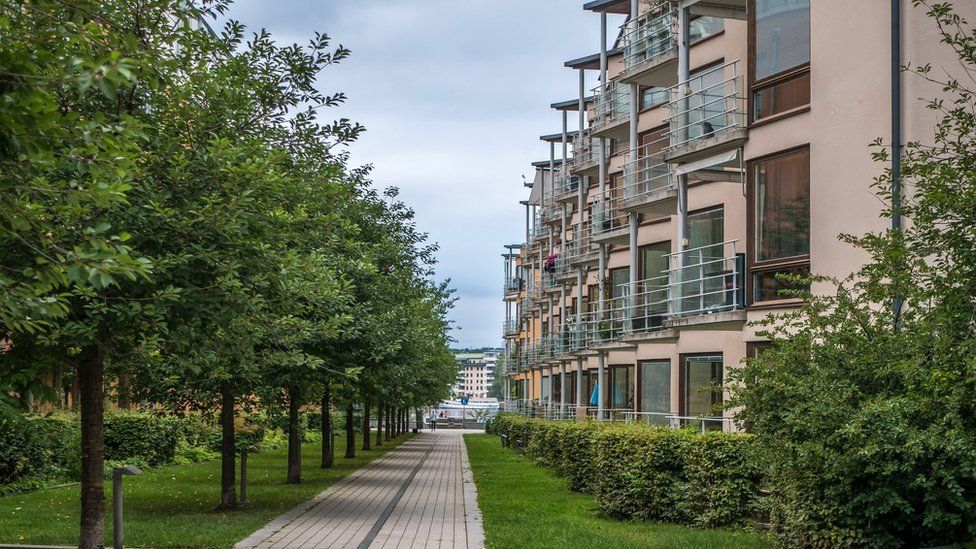 Stockholm is home to one of the world's most famous eco-neighbourhoods, Hammarby Sjöstad. But does it really offer a template for green urban living that can be replicated in other fast-growing cities?
A stellar waterfront location, futuristic glass-fronted apartments and pockets of green parkland and flowering reeds everywhere you look. Hammarby Sjöstad's aesthetics alone would make it a popular place to live or visit even if it was trailing behind in the sustainability stakes.
However, the Stockholm suburb, which is still expanding, has been attracting local and global attention for more than two decades, thanks to its tagline as the Swedish capital's first official eco-district.
"It's very different to other parts of Stockholm... it's a lot better for the environment," says Marc Uddenfelt, a 27-year-old trainee systems developer, who recently bought a one-bedroom apartment here with his girlfriend.
"Compared to other places I have lived in the city, there's a lot more friendly talk and everybody is very inviting."
Construction started in the late 1990s and it's currently home to about 25,000 residents. Its reputation for sustainability comes from the way it handles energy, water and waste - initially designed to cut the environmental impact by 50% compared to a typical suburb - and its goal of maintaining green habits among residents.
The district's cyclical approach to sustainability - known globally as the Hammarby Model - has already inspired projects including Toronto's Waterfront, the waste system used at Wembley stadium in London and a number of developments in China and Thailand.
The BBC's Circular Economy series highlights the ways we are designing systems to reduce the waste modern society generates, by reusing and repurposing products.
Hammarby Sjöstad's environmental aim "was quite ambitious", says Josefin Wangel, an urban development researcher at the Swedish University of Agricultural Sciences.
All the apartments are made from raw materials designed to provide maximum insulation during Sweden's winters. Gas and electricity come from a range of renewable sources including solar panels and biogas.
Some of the biogas is extracted from sewage sludge from the area's water treatment plant, where rainwater, storm water and melt water from snow and ice are processed locally.
Residents sort their rubbish into categories and put it in outdoor chutes which suck the waste underground to a central storage point. Combustible waste is burned and turned into further biogas powering some of the city's buses.
Public transport, including wide cycle lanes and wooden boulevards hugging the water's edge, a tram line, buses and a free ferry service, is designed to discourage commuting by car.
"This area is all about the environment, that's why you live here," says Mr Uddenfelt.
But in order to understand the project's impact, you need to wind the clock back to the early 1990s when it was still an industrial wasteland, known locally for pollution and social problems.
"It was really rough," says Charlotta Baker, who runs public outreach events for visitors to Hammarby Sjöstad for Stockholm City Council.
"We had illegal businesses, an unsolved murder, drugs, illegal clubs. Anything we wanted to get rid of we burnt it or threw it in the sea.
"What it has become shows it is possible anywhere in the world for somewhere quite polluted to be transformed into something sustainable."
The land was originally going to be housing for the city's ageing population, but then became an eco-village as part of Stockholm's bid to host the 2004 Olympics on a green ticket.
While Stockholm failed to get the Olympics it continued to champion sustainability. The evolution of Hammarby Sjöstad helped it win the European Commission's first Green Capital of Europe award in 2010 and become recognised as a best-practice example of green urban policy-making by the World Bank and others.
Commonly cited reasons for its success include Stockholm's relative wealth compared to other cities, and an ongoing nationwide focus on green issues. Sweden's latest goal is to become a net zero greenhouse gas emitter by 2040, with Hammarby Sjöstad aiming to get there by 2030.
There has also been a much higher degree of co-operation here, between different state agencies and private companies, than in previous projects.
"It was the first project in Stockholm where the city planners, real estate agents, traffic agency, water company, environmental and health administration worked together in one office," says Gunnar Söderholm, Stockholm's environmental health director, who has worked on the initiative in various roles since its inception.
While "it wasn't easy", he says being in such close proximity helped them tackle disagreements and "created a new model for city planning, which we still benefit from".
The approach has influenced several other projects, the latest of which is Stockholm Royal Seaport, with plans for at least 12,000 new homes and 35,000 workspaces.
Meanwhile the original eco-district is continuing to innovate with a renewed focus on the sharing economy - by encouraging people to use communal car, bicycle and DIY tool pools and installing more than 500 electric vehicle charging points.
But there is some criticism of using the Hammarby Model as a perfect blueprint.
Josefin Wangel says that while the area now operates in a highly sustainable way, that doesn't include its construction phase.
"It's not as green as people believe it to be," she says. "The production of construction elements or the extraction of materials from the earth's crust stands for quite a big chunk of energy use and also carbon dioxide emissions. That is something that I would like to see future sustainable urban districts pick up."
Also, thanks to high property prices and rental fees social mixing has been limited, so most residents are "upper middle class", Ms Wangel argues. "It partly makes the area more homogeneous and at a Stockholm-level it contributes to making the city more segregated."
But she denies sustainability is something only rich countries can invest in. Making things eco-friendly was initially reckoned to have added 5% to prices, she says, adding that green technology costs have dropped in recent years thanks to rising demand.
"It's easy to exaggerate how costly it is to build [in an] environmentally friendly [manner]," she says. "It's about changing habits."
Just how much sustainability has become ingrained in Sweden is evident in the redevelopment of the area's old hosiery factory, Trikafabriken.
As dozens of workers in yellow hard hats buzz around the building, the property is getting a visit from Mia Häggström, head of sustainability for Fabege, the real estate company leading the initiative.
"I truly don't understand why [other] people aren't scaling up sustainability work," she says. "For us it's core business these days."
Building firms are helped by the fact that banks and lending institutions can offer more favourable terms for projects with an environmental focus, she says.
But even countries without this infrastructure could be making use of the sustainable materials and methods that have become standardised in Sweden, argues Ms Häggström.
"Everyone can do something - perhaps not everything - but everyone can do something."