Tesla provides documents in DoJ probe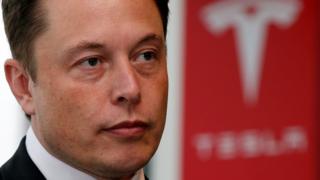 Tesla says it is cooperating with the US Department of Justice following boss Elon Musk's tweets about de-listing.
The electric-car firm said it had received "a voluntary" request for documents, but it had "not received a subpoena, a request for testimony, or any other formal process".
Its statement followed a Bloomberg report saying that the DOJ had opened a criminal fraud inquiry into the firm.
The firm is already under civil investigation by US regulators.
"We respect the DOJ's desire to get information about this and believe that the matter should be quickly resolved as they review the information they have received," a spokesperson said.
The tech entrepreneur startled the financial world in August when he announced on Twitter that he was considering taking the company private and said that he had secured funding to do so.
The news sent the firm's shares surging temporarily, although they later retreated amid doubts about the plan.
Mr Musk subsequently said he had decided to drop the plan, but the episode sparked fresh concerns about the reliability of the firm's public statements to investors.
Erratic leadership
Shareholders have accused Mr Musk - who is known for his ambitious targets - of misleading them about the firm's progress as it aims to boost production of its newest car.
A California court dismissed the lawsuit, which cited the firm's ongoing struggle to meet its manufacturing goals, last month.
The going private episode also sparked questions about Mr Musk's erratic leadership.
In August, he told the New York Times that he worked "120-hour weeks" and took sedatives, while earlier this month he smoked marijuana live on the web during a podcast with comedian Joe Rogan.
On Monday, a British cave diver filed a lawsuit suing Mr Musk for defamation after his repeated claims the diver is a child abuser.