Labour calls for ban on gambling ads during live events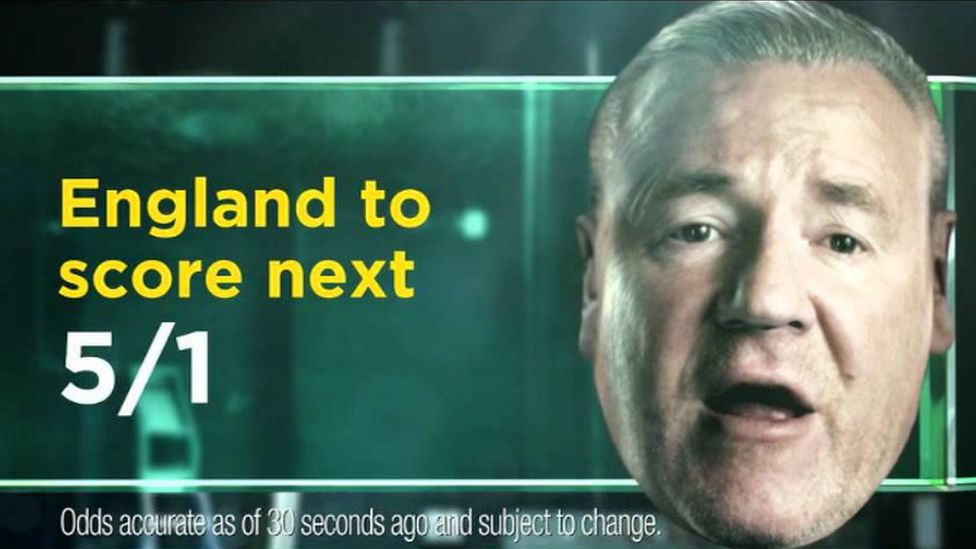 Labour is calling for a ban on gambling advertising during live sporting events in a bid to tackle problem gambling.
It also said it would stop people using credit cards to pay for bets and introduce a levy on gambling operators to help pay for treatment.
Deputy leader Tom Watson said problem gambling was "a public health emergency".
But the Conservatives criticised Labour for "liberalising the gambling market when it was in power".
A report commissioned by Labour found there are 430,000 identified gambling addicts in the UK, 25,000 of which are 16 or under.
Mr Watson said his party would introduce a "whistle-to-whistle" ban on gambling adverts being shown during a specified time before, during and after a live sporting event.
He said experts who specialise in dealing with gambling addiction said those types of adverts caused a "particular problem".
Mr Watson told the BBC's Today programme: "We're not anti-gambling. We just think we need to tighten up regulations because there has been a digital revolution in these new products since the last piece of legislation.
"Even the industry are saying that TV advertising for in-sport betting is getting out of hand and needs dealing with."
The proposed levy would amount to 1% of operators' gross gambling yield.
At present, there is a voluntary levy which Mr Watson said brought in about £10m a year.
He said a compulsory charge would yield about £140m a year "which would allow us to treat more gambling addicts when they require help with their condition".
"Gambling companies have to take more responsibility for harm caused by their products and contribute more to research and treatment."
Labour also said it would bring in new guidelines and resources to help problem gamblers.
For example, it wants new rules that would enable gambling addicts to tell their bank to block online gambling transactions.
Sky Bet boss Richard Flint welcomed the idea of a levy, but said banning advertising and credit card payments would not work.
"We'll study the advertising proposals carefully but think any type of blanket ban removes a key incentive for operators to get a UK gambling licence and therefore could leave UK customers more vulnerable to disreputable operators," he said.
"And our data on credit cards suggests that it is those customers with multiple cards that are at greater risk of harm so we believe attention should be placed on that rather than a complete ban."
Betting companies and gambling advertising have become synonymous with sporting events and sporting organisations in recent years - especially in football.
Labour said it reiterated previous calls for Premier League clubs to volunteer to end sponsorship deals with gambling firms.
But the party added it would take legislative action if clubs refused to do this on a voluntary basis.
Other sports which are "intrinsically linked" to gambling, such as horse racing, would be exempt from the new rules.
'Correcting Labour's mistakes'
Labour's new policies stem from consultations with gambling addiction specialists, charities, industry bodies and those suffering from gambling problems.
Its proposals reflect concern elsewhere about the impact of gambling advertising.
In March, the Australian government banned betting ads from being shown during live sports broadcasts, and the ban was extended to include online streaming services in April.
Rachel Cassidy, professor at Goldsmith's University, estimates gambling advertising increased by 600% from 2007 to 2013.
Chris Skidmore, Conservative Vice Chairman for Policy, said: "Labour liberalised the gambling market when they were in power, and have admitted that they were wrong.
"We are correcting Labour's mistakes - ensuring tighter rules on gambling advertising, increasing protections around online gambling, launching a multi-million pound awareness campaign, commissioning research on the harms of problem gambling, and slashing the maximum stake on fixed odds betting terminals, which were introduced under Labour."