Retailer Orla Kiely ceases trading on cash crunch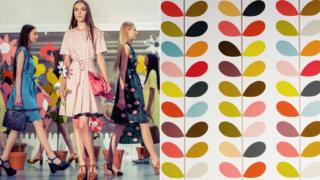 Fashion and homeware retailer Orla Kiely has closed its retail stores and website, becoming the latest victim of the difficult retail landscape.
Orla Kiely ceased trading on Monday after its parent company, Kiely Rowan collapsed.
The retailer's stores on the King's Road and Seven Dials in London, and Kildare in Ireland, have closed.
However, Orla Kiely Home and Design-branded accessories and homeware will still be sold through partners.
"Thank you for embracing our brand and designs throughout the years and for your ongoing support," said the brand, which is known for its vintage 1970s-inspired prints.
Kiely Rowan's directors decided to place the company into creditors' voluntary liquidation.
'No formula for success'
Consultancy David Rubin & Partners has been appointed to wind down Kiely Rowan and liquidate its assets.
It blamed the brand's collapse on "challenges" it had experienced in recent years.
Sources told Mail Online that staff were escorted out of the building in tears on Monday, minutes after the retailer's founder and chief executive Orla Kiely, 55, told them they were being made redundant.
Staff were reportedly told that the retailer did not have enough funds to pay their salaries.
Last year the company's turnover grew from £7.2m to £8.3m, according to Companies House. However its profits fell from £109,000 to £74,000.
Julie Palmer, a partner at restructuring company Begbies Traynor, said: "This latest victim of the high street slump has come a little from leftfield.
"Orla Kiely had the backing of high profile celebrities and clearly had appeal to the latest generation of shoppers. If this latest news shows anything, it's that there is no magic formula to success."
High Street woes
Orla Kiely is the latest in a series of retailers that have been forced to shut up shop on UK High Streets.
Retailers have been hit by weak sales, online competition and rising costs, affecting 22,000 jobs this year.
High-profile failures include Maplin and Toys R Us, while High Street chains such as Marks & Spencer, House of Fraser, Carphone Warehouse, New Look and Carpetright have announced store closures.
Ironically, Orla Kiely is currently the subject of a major exhibition at the Fashion and Textile Museum in London.
The exhibition, entitled Orla Kiely: A Life in Pattern, features more than 150 patterns and products spanning her work from the 1990s until today, as well as collaborations with photographers, film directors and architects.
The exhibition ends on 23 September.