Weight Watchers drops 'weight' from name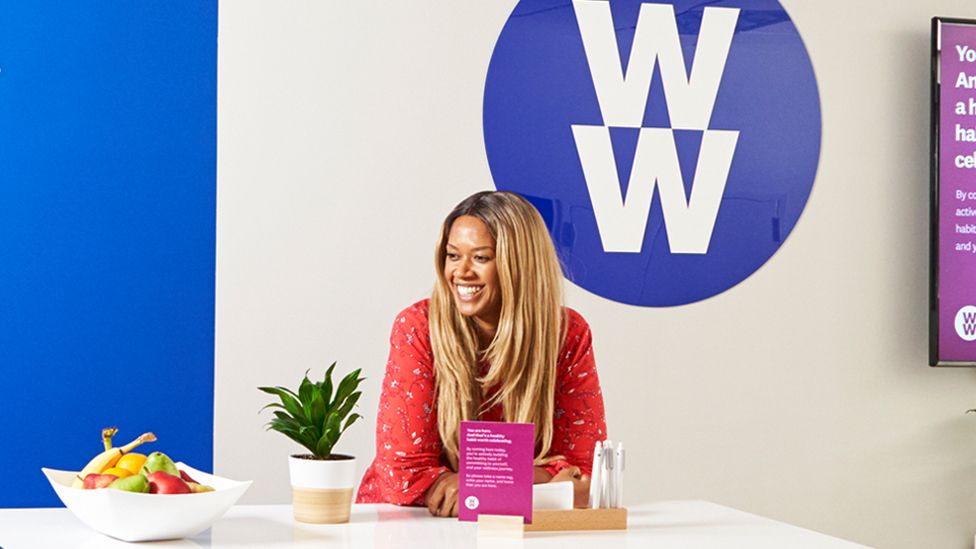 Weight Watchers has unveiled a slimmed down version of its name, rebranding itself WW, in what it says marks "the next stage of the company's evolution".
The company says the new name reflects its development from focusing on weight loss to overall health and wellness.
But the chief executive was unable to explain what the letters WW stood for.
Mindy Grossman said they did not stand for Weight Watchers or "Wellness that Works", a phrase the company has trade marked, but were simply "a marque".
"That marque represents our heritage and history and what we are going forward," she said.
Ms Grossman, who took the helm just over a year ago, said the firm had been shifting from a focus on just weight loss to its broader remit looking at "wellness" over the past two years.
"This is just a next step, a point of validation. Like any brand we have to stay relevant," she said.
US media personality Oprah Winfrey - who bought a stake in the company in 2015 and works as an ambassador for Weight Watchers - said she had always thought that the company's role in people's lives "goes far beyond a number on the scale".
Oprah's involvement has seen the firm's share price surge from under $5 each to about $70 currently. Its latest results show sales rose nearly 18% in the three months to the end of June, with subscribers up by one million from a year earlier to 4.5 million.
However, concern that the firm's momentum could be slowing sparked a sharp sell-off in the shares recently.
Analysis by BBC Radio 4's Helen Sorrell, a former Weight Watchers member
People don't go to Weight Watchers because they want to feel well, they go because they want to lose weight.
Taking the name off the tin suggests an embarrassment around that notion - it's no longer enough just to lust after smaller thighs, now you also need to desire "wellness", whatever that means.
Of course it's good to be encouraged to exercise and develop healthy eating habits, but a corporate re-brand is a reminder of the profiteering behind your hunger pangs.
Weight Watchers offered me kindly support in a peer group setting - and I found its basic mantras helpful - but I'm not sure WW will lead any more people into the promised (size 12) land than its predecessor.
During its 55-year history, the firm has focused mainly on weight loss. US business entrepreneur Jean Nidetch, who founded the firm, described herself as a "formerly fat housewife".
But the new Weight Watchers name comes amid a backlash against the word "weight".
Earlier this year, Weight Watchers' decision to offer free membership for the summer to teenagers, sparked an outcry from eating disorder groups, with a hashtag #wakeupweightwatchers quickly gaining ground.
Meanwhile, social media campaigns such as the #iweigh hashtag have become popular.
The campaign, started by "The Good Place" star Jameela Jamil, encourages others to look beyond their weight, and instead to count other "measurements" in their life such as your "three best friends" or your "one loving sister." The iweigh Instagram account now has 153,000 followers.
Other successful campaigns have encouraged a focus on fitness, rather than appearance.
Sport England's campaign called This Girl Can aimed to encourage more women to take up exercise and featured women of all shapes and sizes taking part in a variety of sports.
Social media hashtags such as #StrongNotSkinny and #FitNotThin hashtags have also grown in popularity.
Weight Watchers' rebranding includes updating its so called Fit points system to encourage subscribers to choose activities which have the biggest impact on health, and a new focus on "healthy habits" in its app for those "who want to build healthy habits without focusing on weight loss".
It has also personalised its online user groups to help members find like-minded people.
The rebrand is aimed at broadening its appeal to attract more potential users, but also to encourage subscribers to stay with them long-term.
"The paradox is that everyone is talking about wellness and nobody wants to use [the words] diet or weight, but we're not getting healthier," Ms Grossman said.